VINTAGE TOBACCO PRODUCTS & ACCESSORIES: PART 2 CIGARETTES
James Bonsack would invent the cigarette making machine in 1881. He would call is invention the Bonsack's cigarette machine. This machine could make 120,000 cigarettes a day. He would go in business with James Buck Duke son of Washington Duke who was credited for the first commercial hand rolled cigarettes. They built a factory and made 10 million cigarettes their first year. Their first brand was packaged in a box with a baseball card.
Below are photos of cigarettes boxes.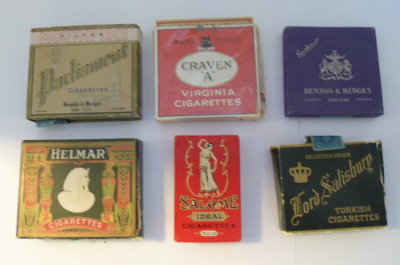 Box 1 Parlianient Benson & Hedges New York.
Box 2 Craven A. Virginia Cigarettes (manufactured in the USA for London England).
Box 3 Gardeuia Benson & Hedges.
Box 4 Helmar Cigarettes S. Anargyros New Jersey.
Box 5 Salome Ideal Cigarettes Rosedor Cigarettes Co. New York 1924.
Box 6 Lord Salisbury North Carolina.
Below are cigarettes card with were put in cigarettes boxes for smokers to collect. These card are from the W. Dukes & Co. New York- Durham NC.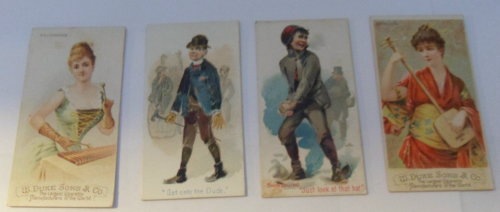 References :
http://www.americantobaccohistoricdistrict.com/
Frank Jr. Tobacco Collection.