DR. J. SWEET: STRENGHTENING BITTERS
J. Sweet was from New Bedford, Mass. There is not a lot of information about him and his medicines. Below are photos of two variants of his Dr. J. SWEET'S //STRENGHTENING // BITTERS.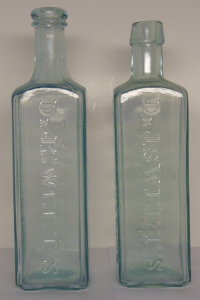 You notice from the photos that both bottles have different tops. Another product the company produced was his DR. J. SWEET'S / CELEBRATED SPRAIN LINIMENT.
References:
Bitters Bottles by Carlyn Ring & W.C. Ham.
Frank & Frank JR. (Wicker) Bottle Collection.