JACOB SCHEETZ: CELEBRATED BITTER CORDIAL
In 1870 Jacob Scheetz was listed as the sole proprietor and manufacturer of Scheetz's Celebrated Bitter Cordial. The firm was located at Northwest corner of 5th and Race Street in Philadelphia, PA. By 1876 the address changed to 200 North and 5th Street. By 1877 the firm's name would change to J. S. Johnston & Co. proprietors. Below are photos of this bottle and two advertisement for the product. Its embossed SCHEETZ'S // CELEBRATED / BITTER CORDIAL // PHILADA.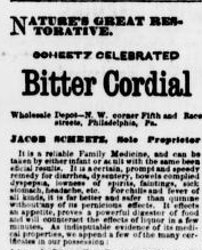 Below is a trade card courtesy of ebay.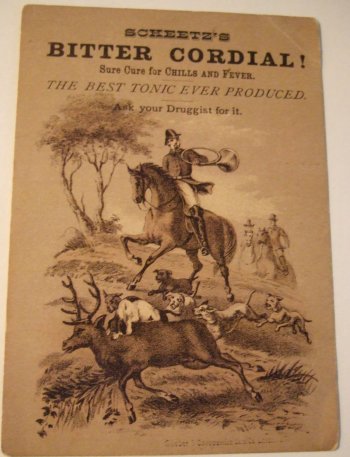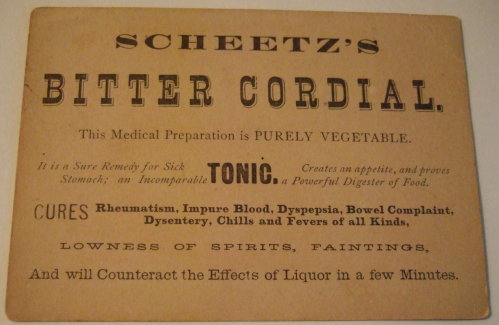 There is another variant of this bottle with the word Bitters instead of Bitter. This variant is extremely rare.

Above is a photo of a Scheetz's Stamp from 1872.
Later on the Hentz Company also from Philadelphia advertised itself as the sole agent for Sheetz's Celebrated Bitter Cordial.
In 1893 Hentz would die. Wilkinson would purchase the entire interest of stock from the heirs of the deceased. The firm would continue at N. Third Street address advertised now as WM. C. Wilkinson "Successor to Wm. A. Hentz & Co.".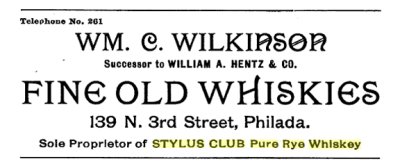 Percy son of Wm. A. Hentz objected strongly for Wilkinson using the phrase "Successor to Wm. A. Hentz & Co.". Percy and his mother went to court seeking an injection to forbid him from using the phrase or the name Hentz. The judge was in favor of Wilkinson and charged Percy and his mother to pay all court costs. Wilkinson would continue to use the phrase in his advertisements.

Upset with the judges ruling Percy Hentz would start his own liquor dealorship in 1894 right next door to Wilkinson Company at 143 N. Third Street. His advertisement would read 'The only Hentz on Third Street". His main product was Hentz's Curative Bitters to compete with Wilkinson's Sheetz's Bitter. Percy sales expanded not only in Pennsylvania but in New Jersey, Delaware and New York. For almost a decade the side by side competition would continue until Percy would move to 5 Arch Street. Percy Hentz business would disappear from the business directory in 1913. Wilkinsons would discontinue in 1918.

For more about the Hentz Company refer to Article 241: HENTZ'S CURATIVE BITTERS PHILADELPHIA
References:
American Enterprize : Burley's United States Centennial Gazetteer and Guide.
Philadelphia City Directories 1870, 1876 and 1877.
Cairo Daily Bulliton Ill. Dec 13 1870.
Frank & Frank Jr.(Wicker) Bottle Collection.