J.J. GILLESPY & SONS : MOULTON'S OLOROSO BITTERS
Jason J. Gillespy was born in 1810 near Saratoga, New York. He was a merchant and established the J.J. Gillespy Gorceries in 1861. He advertised having fine groceries, ales and wines. The store was located at 271 River Street Troy New York. Jason Gillespy had two sons, John H and George M. which eventually joined him the family business. It's listed in the Troy City directory of 1871 that the company's name was now J. J. Gillespy & Sons. Also listed that they were sole agents for MOULTON'S OLOROSO BITTERS / TRADE (motif of a pineapple) MARK. Below is a photo of this fluted bottle with an embossed pineapple.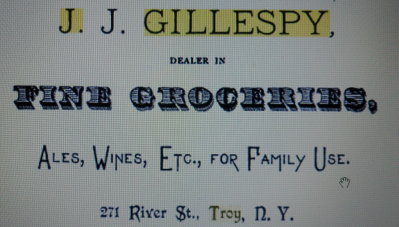 Above is a photo of an ad before his sons joined the business.
References:
Troy City Directories 1866 - 1871.
Troy, New York Census of 1865.
Troy, New York Business Directory 1866.
Bitters Bottles by Carlyn Ring & W. C. Ham.
Frank & Frank Jr.(Wicker) Bottle Collection.