H. P. WAKELEE : MEDICINE
Wakelee was a druggist and a dealer in drug & medical preparations. He established his business in San Francisco, Cal. in 1850. Their establishment was also importers of European goods. The company would have agents in London, England and Paris France. Below is one of his products. This cobalt blue bottle is 4 5/8 tall and is embossed Wakelee's Cameline.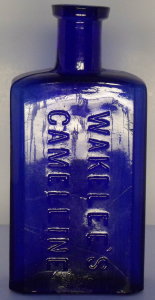 Another product the company produced was Citrate of Magnesia also in a cobalt blue. Below is an ad from the San Francisco Newspaper from 1878.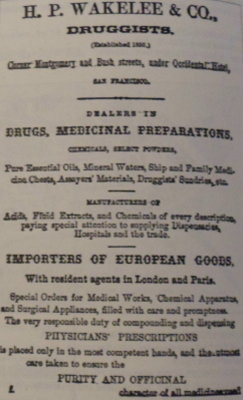 Eventually the company was called the Wakelee & Co. and was located at the Southeast corner of Montgomery and Brush Street. Listed in 1877 were a H. P. Wakelee and C. W. Randall. By 1884 Wakelee was no longer listed and C W. Randall and G. C. Randall are listed. In 1900 C.W. Randall and C. J. Sharon was listed. From 1869 to 1900 the same address above stays the same.
In the later years the company was credited for manufacturing medical instruments.
There are several different examples of pot lids that say H. P. Wakelee Druggist. This would have contained Cold cream and Philicome.
References:
San Francisco City Directories.
San Francisco History. American Surgical Instruments the History by James M. Edmonson.
Frank & Frank Jr. (Wicker) Bottle Collection.