WEIR POTTERY CO. : STONEWARE FRUIT JARS
Mr. W.S. Weir was the one of the controlling interests in the Alexis Pottery Co. until he sold his stock in the company. He would then form the Weir pottery Company. Mr. Weir would use the Willian Teamer patent for the closure for his Weir stoneware fruit jars. He started producing these jars in Alexis. By Sept. 28 1899 the Weir company would incorporate. The firm would build a Pottery Company in Monmouth, Ill. to start manufacturing the stone iron jar patent. Production started in February 1900. Along with W. S. Weir, W. W. Mccullough and D. S. Hardin would join him in the business. Mr. Weir would die in 1901. D. S. Hardin would become president of the company and Mr. Weir son W. B. Weir was vice president.
The company manufactured many sizes of these jars. The sizes ranged from a pint to five gallon jar. Below are three of their sizes of these jars.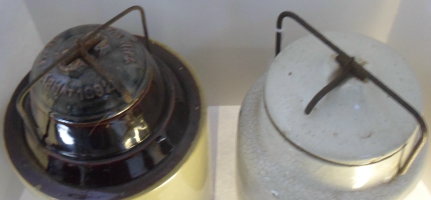 The company would merge with the Monmouth Pottery Co. Besides their fruit jars the company produced advertising pieces for the Heinz Co..
In 1907, seven pottery companies would merge into the Western Stone Company of Monmouth, Ill. The companies were.
1. Monmouth Pottery Co. from Monmouth, Ill.
2. Weir Pottery Co. from Monmouth, Ill.
3. Macomb Stoneware Co. from Monmouth, Ill.
4. Macomb Pottery Co. from Monmouth, Ill.
5. D. Culberton Stoneware Co. from White Hall, Ill.
6. Clinton Stoneware Co. Clinton, Mo. from Clinton, Mo.
7. Fort Dodge Stoneware from Fort Dodge, Iowa.
References:
History of Potteries from Warren County, Ill.
Historical Encyclopedia of Ill.
Frank & Frank Jr.(Wicker) Jar Collection.