GARDNER SPRING CHAPLIN & JAMES JEFFERSON GORE: SOUR MASH 1867 WHISKEY

In 1865 Gardner Spring Chaplin and James Jefferson Gore would open a grocery store at the corner of State and Monroe Street in Chicago, Ill. Gore convinced Chaplin to add a liquor department. Shortly after liquor would become their major product. Both men put out a product called Chaplin & Gore 1867 Sour Mash. The firm would achieve worldwide fame with their whiskey and establish branches in Kansas City, Indianapolis and Paris.

The company would acquire their own distillery in Kentucky. The Chaplin & Gore Company was in business from 1870 through 1918 and would incorporate in 1911. Below is a photo of one variant of this bottle. Its embossed. CHAPLIN & GORE (on top of shoulder) SOUR MASH / 1867.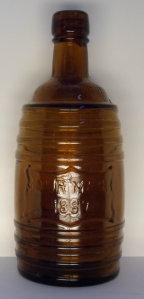 References:

www.pre-pro.com

Chicago City Directory Co. Don Welly Lloyd & Co.

www.peachridgeglass.com

Frank & Frank Jr. (Wicker) Bottle Collection.