PETER MCQUADE : AMAZON BITTERS

There is very little information about this bitters bottle. Peter McQuade was from Brooklyn, New York. My guess is that he was in the wholesale and retail liquor business. The photos of this bottle below is embossed AMAZON BITTERS // PETER MC QUADE / NEW YORK. The color is an yellowish amber with a tint of olive.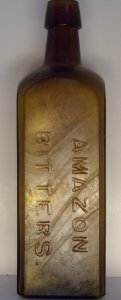 .



In 1905 Peter Mc Quade registered with the government a back bar bottle with a lithographed label under the glass calling it GALAXY WHISKEY below is a photo of this bottle.

References:

Bottles. Booze and Back Stories by Jack Sullivan Nov. 19, 2010.

Bitters Bottles by Carlyn Ring & W. C. Ham.

Frank & Frank Jr.(Wicker) Bottle Collection.

..