JOSHUA C. MICHEL & MATHEN MOODY : WEST INDIA BITTERS

Matthew Moody, Joshua C. Michel and Morey T. Andrew were listed in the 1867 St. Louis City Directory as a wholesale grocers, wines, liquors and cigars. In July of 1873 The Moody, Michel & Co. had a proprietor stamp issued for their Celebrated West India Bitters. They also obtained a patent on February 8 1876.

In 1876 it appears that the West India Manufacturing Company bought out the Moody, Michel & Co. Michel Moody would drop out of the grocers business and become a broker for the West India Manufacturing Company.

West India Bitters was listed in the drug catalogs from 1882 through 1902. There are three variants of these bottles not including different base marking. The one photo below is embossed WEST INDIA / STOMACH BITTERS // ST. LOUIS, MO.



.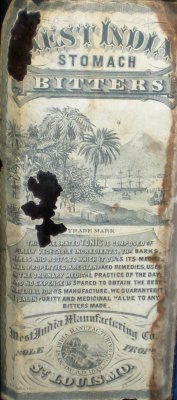 . Label courtesy of ebay.

The other two variants are the earliest with Moody, Michel & Co. embossed on them.





References:

Dr. Cannon's Medicine Chest Article.

Bitters Bottles by Carlyn Ring & W. C. Ham.

Frank & Frank Jr. (Wicker) Bottle Collection.

..