IMPORTANT ACHIEVEMENTS IN AMERICAN FRUIT JARS
In 1854 James Spratt from Cincinnati, Ohio came up with the first wax sealer.
1855 Robert Arthur would patent the glass groove-ring wax sealer. Glassmaker would continue producing these wax sealers until 1912.

1858 John L Mason would invent and patent a glass container with disappearing threads which were molded into the neck of the jar. A zinc threaded lid and a rubber ring to seal the jar. These jars were the most common. The jar was embossed Mason's Patent Nov 30th, 1858. These jars were produced by many companies into the 1920s.

1859 John Mason sold five of his patents to Lewis R Boyd who owned a company called The Sheet Metal Screw Co. Boyd came out with the milk glass liners for the zinc lids.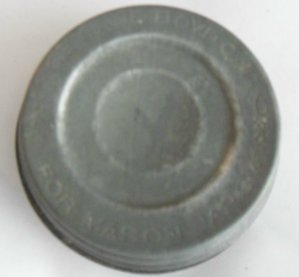 Salmon B Rowley specialized in lid designs. These metal or glass lids would straddle the ground lip of a jar held down by a zinc band.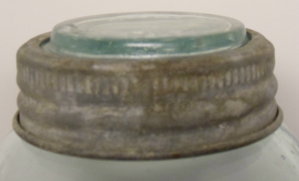 1859 J. D. Willoughby would come out with a jar which had glass stopper to seal a jar. Other styles of stoppers were 1862 W.W. Lyman stopper, 1863 C. F, Spencer stopper and 1863 Kline stopper just to name a few.

1861 John M. Whitall patented the Millville Atmospheric jar which had a yoke style iron clam and a thumb screw which held a glass lid and a rubber ring to the jar. Other jar manufactures would use similar designs.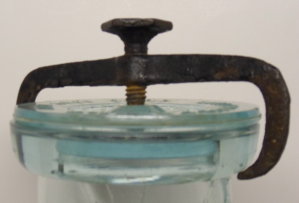 1882 Henry Putnam used Charles De Quillford's toggle type closure patent to invent the Lightning Jar. This jar had a wire tied around the neck of the jar, securing the lever wires to the jar which would hold down a glass lid and a rubber ring sealing the jar. Many other jar companies would come out with their own version of this style of clamp.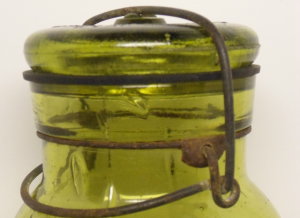 The Hazel- Atlas Co. would improve on the Lightning style clamp. They come up with a jar that sealed on a raised lip. This reduced the pressure on the top of the jar which helped to prevent cracking the jar. The company called this jar the Atlas Strong Shoulder.
1903 The Kerr and Ass. Founded the Hermetic Closure Co. This Chicago Base company made a metal lid with a spring clip. In 1904 the name changed to the Kerr Glass manufacturing Co. Kerr come up with the permanently attached gasket to the threaded metal cap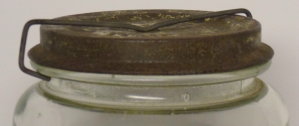 The Ball Company first started producing fruit jars in 1885. By purchasing the Greenfield Fruit Jar & Bottle Company The Ball Company obtained the license for the Owens automatic bottle making machine. The Ball Company would take over smaller jar companies closing them shortly after to gain control of the industry. The Company would produce millions of their fruit jars.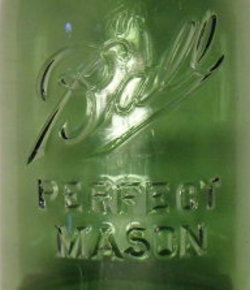 References:
A Primer of Fruit Jars by Dave Hinson.
A Collectors manual - Fruit Jar by Julian Harrison.
Bottles & Extras 2004 Winter, A History Worth Remembering by Melissa Miner.
Frank & Frank Jr. Fruit Jar Collection.