GEORGE G. STEKETEE : BLOOD PURIFING BITTERS
George G. Steketee was born in March 12 1835 in a village in Holland, Europe. In 1847 his parents would relocate to Holland, Michigan and in Nov, 1849 they would purchase a farm. George would eventually move to Grand Rapids , Michigan to learn the tailor trade. By 1865 George and his brother Paul would engage in a mercantile business which would continue till 1868. By 1869 George would go into the drug business. For many years George gave his personal attention to the drug retail trade, but he was getting interested in family medicines. He would leave his drug retail business to others to run and start Steketee's Family Medicines. George was very successful with his family medicine line. In 1881 George would be elected Mayor of Grand Rapids where he would serve one term. Below are two different sizes of his STEKETEE'S BLOOD / PURIFING BITTERS. The first bottle is 9 5/8 inch in height and the second bottle is 6 5/8 in height. The second photo is a STEKETEE'S / PIN WORM DESTROYER / GEO. G. STEKETEE PROP.
Above is his Neuralgia Drops medicine.
There is at least 10 other products the George Steketee was involved with. Listed in the Kent County directory of 1870 "Steketee & Kimm proprietor Grand Rapids, Michigan. Ringham has a STEKETEE & KIMM'S HOLLAND STOMACH BITTERS listed as S.190. He was also listed in the 1896-1897 and 1901-1902 Drug catalog as be at the address of 89 Monroe St.
Below is a trade card.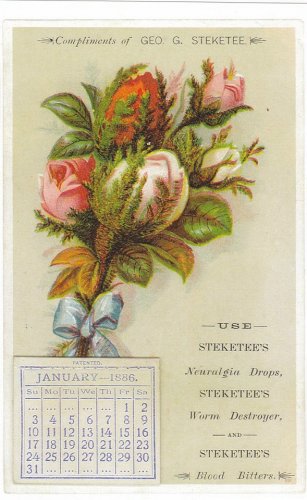 References:
Kent County Directory.
Grand Rapids City Directories.
Bitters Bottle by Carlyn Ring & H. C. Ham.
Frank & Frank Jr. (Wicker) Bottle Collection.