W. H. BULL & CO. : SUPERIOR STOMACH BITTERS

There is very little information about Dr. W. H. Bull besides what is embossed on the bottles that survive today. His Superior Stomach Bitters bottle is embossed DR. BULL'S SUPERIOR / STOMACH BITTERS // W. H. BULL & CO. / ST. LOUIS. Below are photos of this bottle.



.



Here are some other medicine bottles which his company has produced. W.H. Bull's Herb & Iron, Dr. W.H. Bull's Red Pills and W.H. Bull & Co. St. Louis. Below is a photo of his Dr. W. H. Bull's Medicine Co. .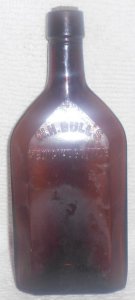 .Courtesy of ebay.

References:

Bitters Bottles by Carlyn Ring & W. C. Ham.

Frank & Frank Jr. (Wicker) Bottle Collection.



..