BALL BROTHERS GLASS MANUFACTURING: FRUIT JARS: PART 1

In the beginning two brothers Frank C and Edmund B Ball borrowed $200.00 dollars from their uncle George Ball. The two brothers would purchase the Wooden Jacket Can Company located in Buffalo, New York. This company encased kerosene in tin cans. Eventually there were five brothers involved with the company. The Ball Brothers Glass Manufacturing Company would gain control of the fruit jar industry.

Below are the important milestones of the Ball Brothers Glass manufacturing Company.

1880--Ball brothers began business as Wooden Jacket Can Company in Buffalo, N.Y.
1884-- The Ball brothers discovered that the patent covering the mason improved jars has expired.
1884-1885--Glass fruit jars first made in Buffalo, New York.
1885-- Zinc caps first made.
1886-- Ball Brothers Glass Manufacturing Company was incorporated.
1887-- Muncie plant built. Metal operations continued at Buffalo and Bath, N.Y.
1888-- First glass products made in Muncie - glass oil cans and lamp chimneys.
1888-- Certificate of incorporation was filed for the Ball Glass Works of Muncie, Ind.
1889-- Day-tank replaced pot furnaces.
1889-- All jar fittings manufacturing moved to Muncie.
1890-- Flint glass furnace for jars and bottles built.
1890-- Christmas mason jar was produced.
1892-- "Day and Night" flint glass tank installed - 1,000 workers employed.
1892-- Ball in block letters added to mason jars.
1893-- Ball introduced ball in script lettering.
1894-- Wooden boxes of dozen jars shipped - first dozen of anything shipped to grocery - patented by E. B. Ball.
1896-- Ball script was now a three L style.
1897-- F. C. Ball Machine invented (patented 1898) - world's first semi-automatic glass machine.
1898-- Aluminum caps made for jars.
1898-- Ft. Wayne Glass Works, Upland, Ind., acquired.
1899-- Natural gas began to fail in Indiana Gas Belt Muncie plant about
1900-- Ball-Bingham Machine invented - first automatic glass machine.
1901-- Windfall Glass Co., Windfall, Ind., acquired.
1902-- Corrugated paperboard first used by Ball for interstate shipment of jars by rail.
1904-- Swayzee Glass Co., Swayzee, Ind., acquired.
1904-- Upland Glass Co., Upland, Ind., acquired.
1904-- Marion Fruit Jar & Bottle Co., Marion, Ind., acquired with plants in Marion, Converse, Fairmount, Ind., and Coffeyville, Kan.
1904-- Port Glass Works, Belleville, Ill., acquired.
1904-- Loogootee Glass Works, Loogootee, Ind., acquired.
1905-- Automatic-flow feeder invented.
1908-- Totally automatic glass-making perfected by Ball.
1909-- Root Glass Co., Terre Haute, Ind., fruit jar plant acquired.
1909-- First Blue Book published.
1909-- Greenfield Fruit Jar & Bottle Co., Greenfield, Ind., and Owens machine license acquired.
1909-- Mason Fruit Jar & Bottle Co., Coffeyville, Kan., acquired.
1910-- Shoulder seal jars discontinued and shoulder seal introduced.
1910-- Ball script started using the dropped a.
1911-- Zinc mills in La Harpe, Kan. - Lanyon Zinc Smelting Co. and La Harpe Rolling Mill Co. - acquired.
1912-- Zinc mill established in Muncie.
1913-- Texas Bottle Co., Wichita Falls, Texas, acquired; new plant built and operated until 1951.
1914-- Began making rubber sealing rings for jars.
1915-- First outside sale of zinc and zinc products began.
1915-- Ideal jars first produced; discontinued 1962.
1916-- Westside Paper Mill, Muncie, acquired.
1920-- Jelly glasses introduced.
1922-- Eclipse jars manufactured until 1952.
1922-- Company name changed to Ball Brothers Company.
1923-- Noblesville Strawboard Mill, Noblesville, Ind., acquired.
1923-- Ball scripted now started having an undropped a.
1925-- Schram Glass Manufacturing Co., St. Louis, acquired, with plants in Hillsboro, Ill.; Huntington, W. Va.; and Sapulpa, Okla.
1929-- Pine Glass Corp., Okmulgee, Okla., acquired; closed in 1994. 1930-- Two-piece Mason jar closures made of zinc and glass; later of tinplate and glass and later of all tinplate.
1933-- Eaton Strawboard Mill, Eaton, Ind., acquired from Upco Corp. 1933-- Gripper Ribs introduced to jars.
1934-- Muncie zinc mill expanded became largest strip-rolling mill in world.
1935-- Pressure cookers first produced; discontinued 1941.
1936-- Three Rivers Glass Co., Three Rivers, Texas, acquired.
1937-- Black mechanical rubber production capacity added.
1937-- Ball blue color is discontinued.
1942-- Aridor Co., Chicago, acquired for commercial closure production.
1942-- Round square jars are introduced.
1943-- American Zinc Products Co., Greencastle, Ind., acquired from Dupont.
1945-- No. 1 glass plant in Muncie, Ind., burns.
1947-- Friedrich & Dimmock, Millville, N.J., purchased to make spun glass fiber and other glass products; sold in 1949.
1947-- El Monte, Calif., glass plant built.
1954--Chardon Rubber Co., Chardon, Ohio, acquired.
1955-- Can-or-Freez™ jar introduced.
1956-- Ball Brothers formed a research Corp.
1956-- English measurements added to jars.
1960-- The Ball scrip changes the open B is now a closed B
1960-- Asheville, N.C., glass plant built; closed in 1994.
1960-- Rolled Plate Metal Co., Brooklyn, N.Y., acquired; closed in 1971.
1961-- Mundelein, Ill., glass plant built; closed in 1981.
1962-- Muncie glass plant closed.
1965-- Quilted crystal jelly glasses introduced.
1969-- Company name changed to Ball Corporation.
1970-- New Muncie home canning closure plant completed.
1970-- Greeneville, Tenn., zinc plant completed.
1972-- No longer a family owned company.
1973-- Ball stock was admitted for trading on the new York Stock Exchange.
1974-- Metric measurements added to jars.
1994-- Ball began manufacturing Pet Plastic Containers.
1995-- Ball Aerospace & Technologies introduced.
1995-- Ball created Ball-Foster Glass Container Co.
1996-- Ball sold the Glass business to Saint-Gobain Co.
1998-- Headquarters move from Muncie, Indiana to Broomfield, Colorado.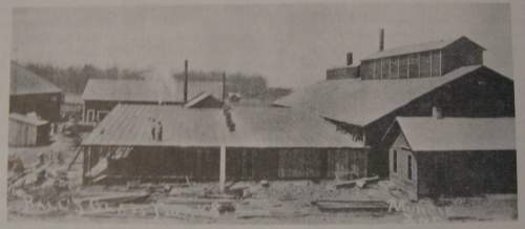 Ball Brothers Muncie Glass Factory sometime in 1888-1889.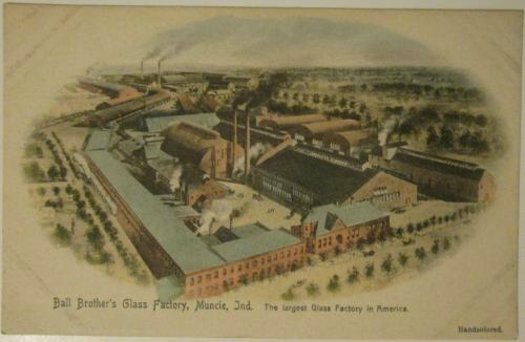 Ball Brothers Glass Factory Muncie, Ind. post card.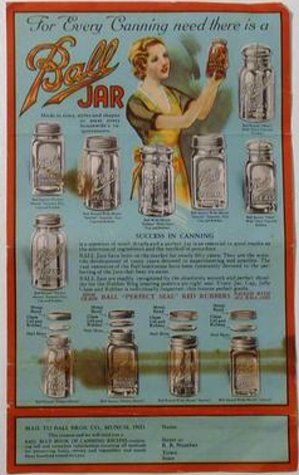 Ad for Ball jars.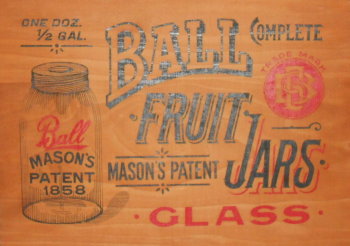 Ball jar box from 1893-1896

References:

en.wikipedia.org/wiki/Ball_Corporation

www.balljars.net/ball_corporation_history.htm