TIMOTHY NOONAN & SONS: BARBER SUPPLIES.
According to the Boston City Directories Timothy Noonan was listed as a hair dresser and had a hair dresser saloon from 1871 to 1880. His first location was 723 Washington Street Boston, Mass. He also had a house number at 913 and 910 through that time period.
Sometime around 1880 the company was now called the T. Noonan & Sons. By 1913 Timothy's son Frank was thought to be running the business. He Registered "Patrole" as a trademark and in 1920 Frank also registered "Zepps" as a trademark.
Below is an ad from the Journeyman Barber vol. 18.

Below are photos of three barber bottles with are embossed on the base. T. NOONAN & SONS CO. BARBER SUPPLIES BOSTON, MASS.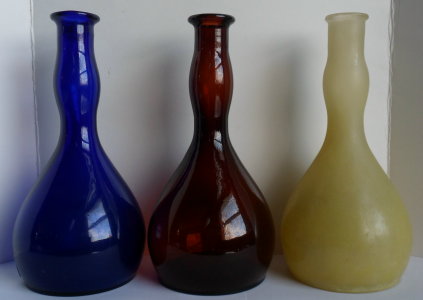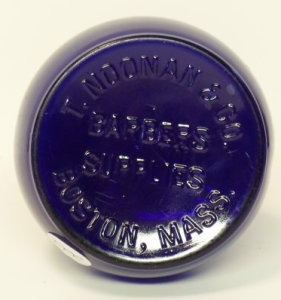 .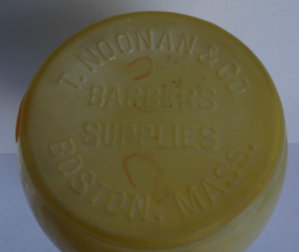 Below are photos of a 10 ½ inch tall bottle from the 1920s. It's embossed "NOTICE" THIS SPECIAL SIZE FOR BARBERS BENCH USE ONLY. MUST NOT BE REFILLED CONENTS 21 1/3 FLUID OZS. T. NOONAN & SONS CO. BOSTON, MASS. The second bottle is smaller and is embossed T. NOONAN & SONS BARBER SUPPLY BOSTON, MASS.

...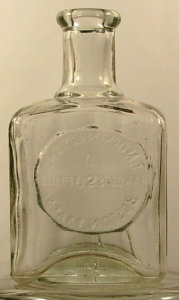 Below is just one of the many barber line products that Noonan & Sons were offering in the 244 page catalog for the barber shops.

.

This straight razor was made from 1901-1960
Here is list of Noonan & Sons product for the Hair. Dr. Marshall's Hair Restorer, Cosmos Hair Tonic, Noonan's Hair Petrole, Slikum Hair Dressing and Zepp's Lustral for Danddruff
References:
www.hairraisingstories.com
Boston City Directories 1871-1920.
The Journeyman Barber Vol. 18.
Frank & Frank Jr.(Wicker) Bottle Collection.