DR. GEORGE PIERCE : INDIAN RESTORATIVE BITTERS
Before Dr. George Pierce concocted his bitters he was the proprietor of Dr. Lamott's Vegetable Pills sometime around 1832. It's thought that his Indian Restorative Bitters is from the early 1850s. At this time he and Charles Osgood of ( Osgood's India Cholagogue ) ran a drug store in Lowell, Mass. between 1855 and 1859. Their firm also had a second location in Boston. It's thought that George Pierce was not personally involved in the Boston operation. He would remain in Lowell where he died in 1864. His bitters was still being manufactured until 1899 were it is listed in the Era Blue Book for Druggists.
There are two variants of these bottles. The photos below is the later version and is embossed DR. GEO. PIERCE'S // INDIAN RESTORATIVE BITTERS // LOWELL, MASS. This bottle has a double collar top.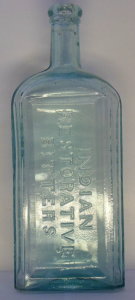 .

.
The other variant has either an open pontil or an iron pontil with a tapered top.
References :
Bottled Products and the U. S. Patent Office by McGuire E. 1991.
Dr. Cannon's Medicine Chest.
Bitters Bottles by Carlyn Ring & W. C. Ham.
Frank & Frank Jr. (Wicker) Bottle Collection.