S.T. DRAKES 1860 PLANTATION X BITTERS
Patrick Henry Drake was an apothecary in Binghamton, New York. He is credited for creating a formula which he called Plantation Bitters and Catawba Wine Bitters. He also invented a new and original design for a bottle. This was his cabin shape bottle which bottle collectors call the Drakes Cabin.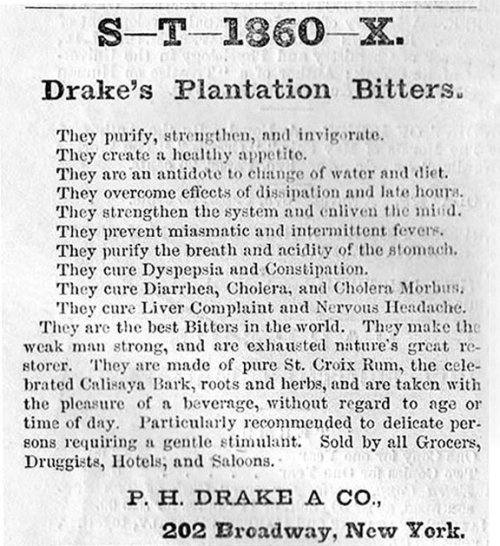 In 1862 Patrick Henry Drake would partner with Demas Barnes who already owned many other patent medicines.
From article 133: Demas Barnes was born on April 4 1827 in Gorham Township, Ontario County. By 1849 he would move to New York City and engaged in a drug business the same year with Charles Henry Fletcher of Castoria fame. They would also become wholesalers and distributors of proprietary medicines. The first private die stamp used by Demas Barnes was issued in March of 1863. Below is a list of the medicine patents he bought from various developers. According to his die stamps he was the proprietor of Drake's Plantation Bitters-Drake's Catawba Bitters- Lyon's Magnetic Power-Lyon's Kathairon- Guysott's Yellow Dock and Sarsaparilla-Mexican Mustang Liniment-Heimstreet's Hair Coloring-Hagan's Magnolia Balm-Royce and Esterlys Dentrifice-Wynkoops Pectoral-Prickly Plasters. All before 1863. (For more information about Demas Barnes refer to Bottle Pickers article 133).
Both men were involved producing Plantation Bitters. The company was called the Drakes & Co. This company was located in New York, New York. The product did very well and was selling nationwide. In the beginning the cabin used was a 4 log version. Then 5 and 6 log versions were introduced.
Below are photos of their Revenue Stamps for Plantation Bitters and other products that Demas Barnes was involved with.

.................

..................


By 1867 Patrick Drake would establish the P.H. Drake Company being the soul proprietor. The address was Depot 53, 55 & 57 Park Place, New York. Patrick Drake would die in 1883. Willaim P. Ward now would become the sole proprietor.
Many of these Drakes bottles were being produced by the Whitney Glass Works. According to advertisements Plantation Bitters was being manufactured and being sold until the 1900s.
Below is a revenue stamp from the P. H. Drake & Co.

There are at least 13 variants know of these Drakes Cabins. According to both Bitters Bottles & Bitters Bottles Supplement. Both books are by Carlyn Ring & W. C. Ham. The 4 & 6 log cabins are the most common with the 5 log much scarcer. There are four variants of these cabins which are common in amber. The rest of the variants are ether rare to extremely rare and even unique. For more information about the Drakes variant refer to the books mention above.
Below are some photos of the 4 log version. The embossing reads ST. / DRAKE'S / 1860 /PLANTATION / X / BITTERS // PATENTED 1862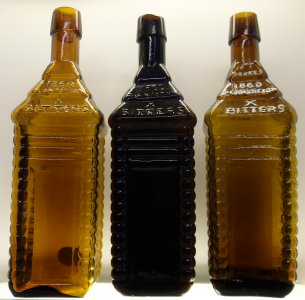 .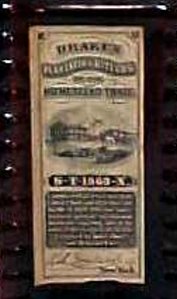 4 log label.
Below are some photos of the 6 log version. The embossing reads ST / DRAKE,S / 1860 / PLANTATION / X / BITTERS // PATENTED 1862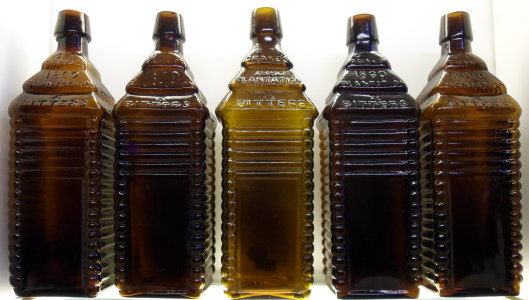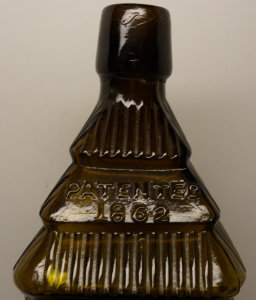 .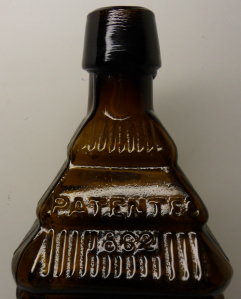 Notice the different in the placing of the patent date.
Besides the shades of amber there are shades of puce, amethyst, greens, teals which are all sought after by advanced bottle collectors. Some of these colors can bring tens of thousands of dollars. Below is a photo of some Drakes Plantation Cabins in these awesome colors.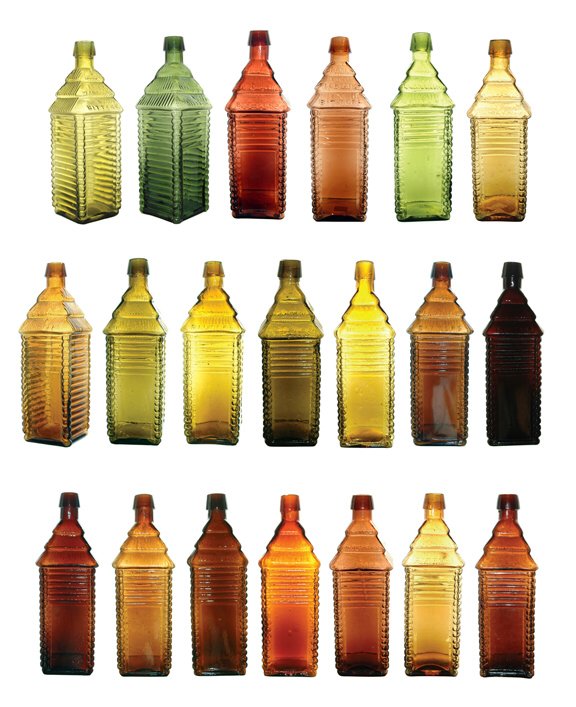 Photo above courtesy of Ferdinand Meyer www.peachridgeglass.com This is part of the spectacular Meyer Collection.
Below are some other related items.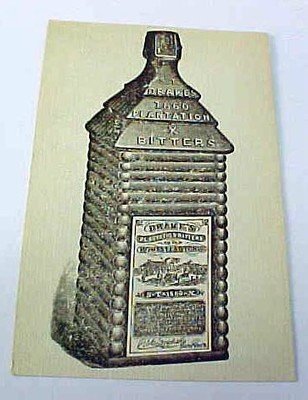 . Drake's trade card. Courtesy of ebay.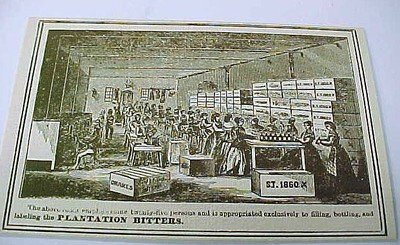 . Back of trade card. An early assembly line.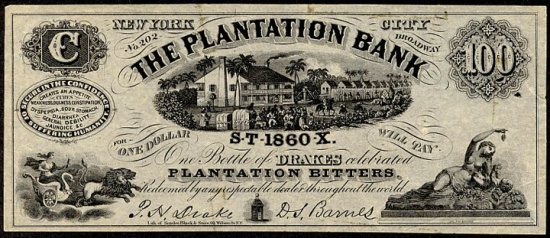 Note both P. N. Drake & D. Barnes signatures.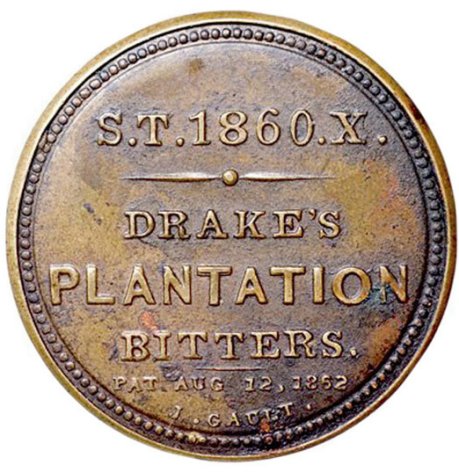 S.T. 1860 . X. DRAKE'S PLANTATION BITTERS. PAT AUG 12 1852 J. GAULT token.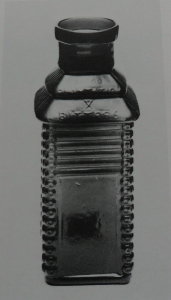 .Here is a photo from the 1983 Blaske Collection: Skinner Auctions catalogued by Norman C. Heckler. This was lot number 575 and called the S. T. / Drake's / Plantation / Bitters " Jar". It sold for $ 4000.00 in 1983.
Below is a stereoview photo of a mouk medical scene from 1874. Notice the Drakes Bottle.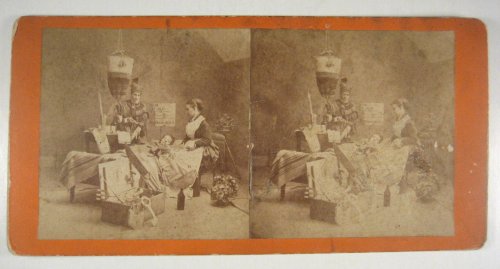 Below is a Drakes Phamphat called Morning Noon and Night from 1871.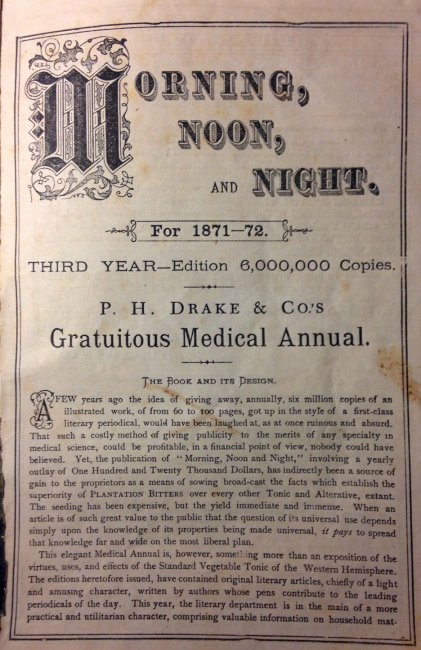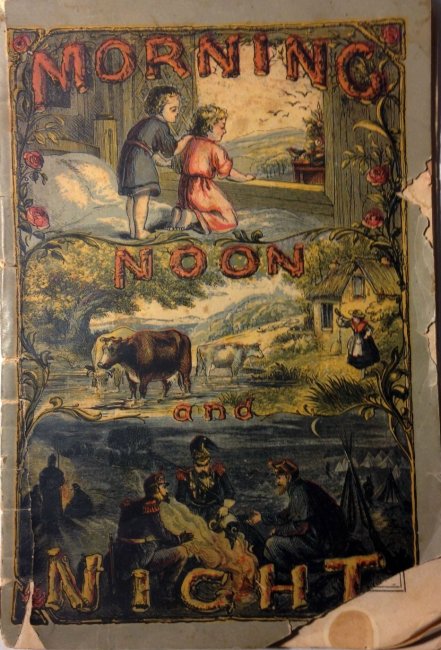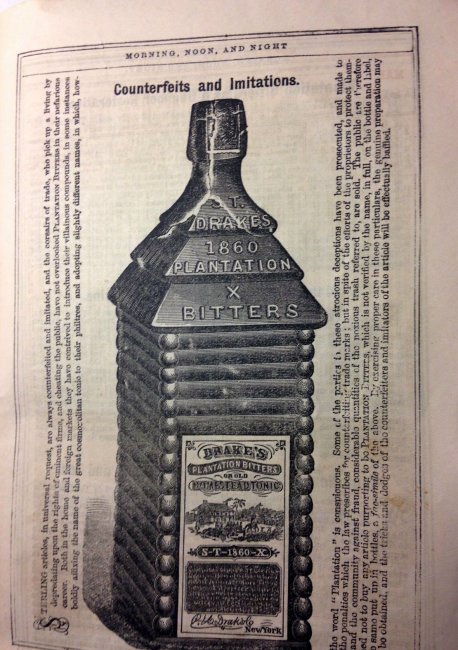 References:
www.cecilmunsey.com
Bitters Bottles by Carylan & W. C. Ham.
www.rdbinsh.com
www.peachridgeglass.com
Frank & Frank Jr. (Wicker) Bottle Collection.