COHANSEY GLASS MANUFACTURING COMPANY: FRUIT JARS
The roots of this Bridgeton, Pa. glass manufacture started in 1836. For the next twenty seven years the company went through several owners and name changes until 1863. The business prosecuted under the proprietorship of F. & J. Bodine. The earliest date that the Bodine brothers used the name Cohansey was Feb 12 1867. The company would incorporate in 1879 and become the "Cohansey Glass Manufacturing Company. The glassworks was located at Pearl Street on the edge of the Cohansey River. The West Jersey Railroad Extension ran directly through the factory yard. This connected the company to the rest of the United States.
The company was running four factory plants. Two plants were for their fruit jars and bottles and the other two plants for their window glass. The factory would make druggist bottles, phials, beer bottles, wine bottles, fruit jars, carboys demijohns and also window glass. But the specialty of the company was their Cohansey Fruit Jars which the owners had a special patent for. In the companies hay day they employed over 400 people.
Below are just a few of their fruit jars.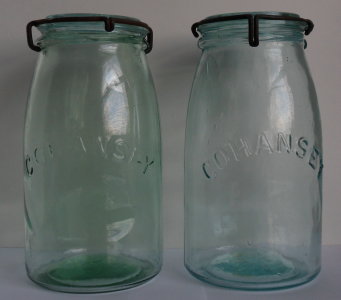 . Two quarts aqua green & aqua blue.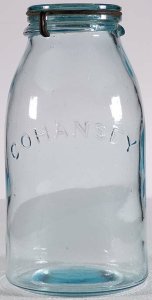 . Half gallon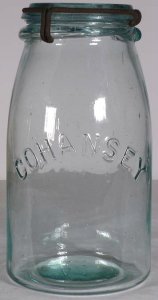 . Quart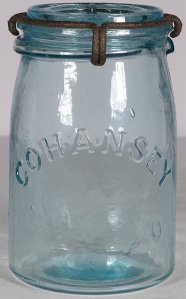 .Pint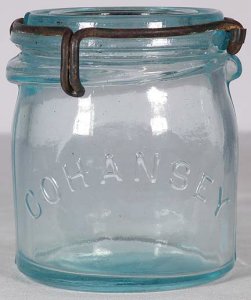 .Half pint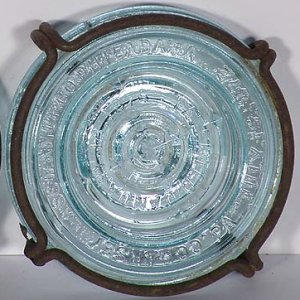 .Glass lid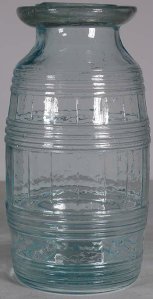 . Wax sealer embossed on base
The company also made fruit jars with the embossing on the base.
Here is a little history about Bridgeton, Pa. The town was established in 1749 and the Cohansey Bridge was established. In 1752 the first court house was built. By 1755 the town name was changed to Bridgeton. In 1865 Bridgeton was incorporated.
References:
Bridgeton Historical Soc.
Redbook #10 by Douglas M. Leybourne, Jr.
Frank & Frank Jr. (Wicker) Fruit Jar Collection.