REV. WALTER CLARKE: COMPOUND MANDRAKE BITTERS

Rev. Walter Clarke started out as a chemist in England. He would immigrate to Minot, Maine were here he would start manufacturing several different kinds of medicines. Eventually his son would join him in the family business. Below is a photo of his CLARKE'S COMPOUND MANDRAKE BITTERS bottle. This 7 5/8 oval bottle is listed as rare.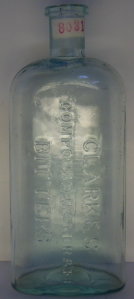 Below is an ad which was place in the Freewill Baptist Register Vol # 44-48 1876. This ad also lists Clarke's European Cough Remedy, Clarke's Rhevmatic Elixer, Clarke's Excelsior Panacea and Clarke's Family Vegetable Pills.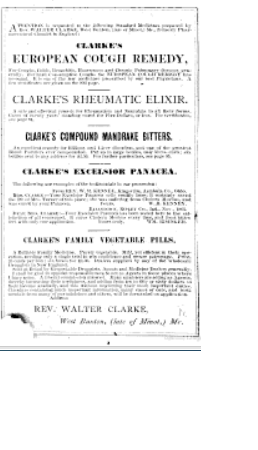 The Bitters Bottle Book lists this Bottle being from Minot, Ill. This is incorrect the ad above say Minot, Maine.

References:

Freewill Baptist Register Vol. # 44- 48 1876.

Frank & Frank Jr. (Wicker) Bottle Collection.