CHRISTOPHER AUGUST HOLTZERMANN : HOLTZERMANNS STOMACH BITTERS
Christopher August Holtzermann was born on August 20 1840 in Piqua, Ohio. His father was Jacob Daniel Holtzermann who was an immigrant from Germany and relocated to Piqua in 1840. Sometime in the 1860s Christopher went into business as a local domestic liquor merchant and druggist. His small store was located at the corner of Main and Water Street. The address was 221 N. Main Street Piqua, Ohio.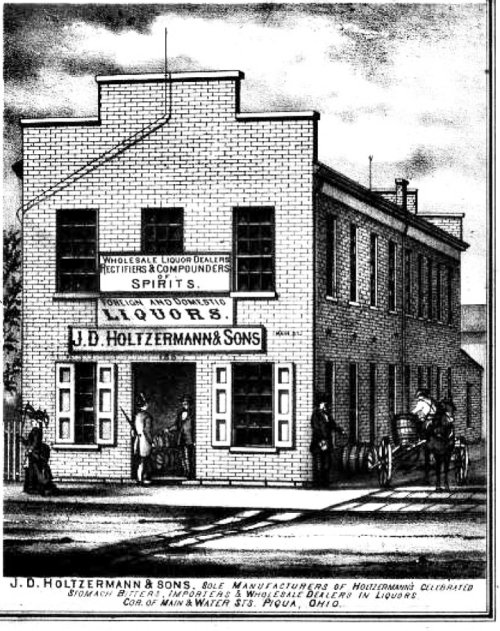 On May 7 1867 Christopher August Holtzermann patented his bitters formula and by 1871 he was advertising his Holtzermann's Celebrated Stomach Bitters. His stomach bitters was being sold throughout Western Ohio, Indiana and Parts of Illinois.
Below are photos of the early rectangular cabin bottle before 1885.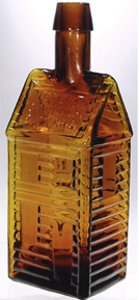 This photo courtsey of www.peachridgeglass.com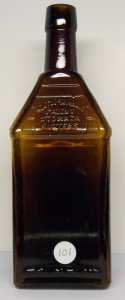 .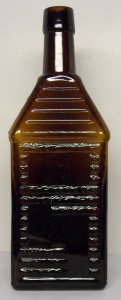 .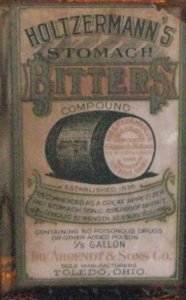 Above is the later cabin bottle after 1885.
Below is a sample size bottle with label from Piqua, Ohio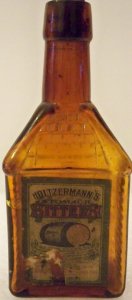 Christopher August had three sons Louis J. who was born on Sept 18 1864 and Jacob Daniel who was born on Sept 10 1869 and George who there is no information on except for the cenus.
Christopher August business was doing quite well but he would become ill in June of 1875 and would die a month later on July 1875 at the age of 34. Today his grave site can be found at the First Hill Cemetary in Piqua, Ohio. With the unexpected death of their father Louis was forced to work at a young age in the store with his brother Jacob working with him shortly after.
In time the two brothers would start expanding their business and by 1187 the J. D. Holtzermann & Co. would open a second location in Minneapolis, Minn. The store was called Holtzermanns Chicago Store Company. This large department store continued to sell their famous stomach bitters along with other goods. At some point the Holtzermann brothers would sell the rights to Holtzermann Stomach Bitters to Ahrendt & Son Co. from Toledo, Ohio.
This companies time line was from 1890 to 1915. The later 9 ¾ inch cabin bottle label reads Ahrendt & Sons Co. Solo Proprietors. Above is a photo of the label from the later cabin shape bitters bottle. There are several different variants of Holtzermann's bitters bottles.
There is a square amber bottle with is embossed HOLTZERMANN'S STOMACH BITTERS // J. D. HOLTZERMANN & CO. This bottle is very rare.
There is a back bar bottle with a swirled neck and painted lettering saying HOLTZERMANN STOMACH BITTERS. This bottle is extremely rare.
There is a sample 4 inch tall cabin style bottle with a label only.
There is a 9 1/2 inch tall 2 roof cabin in different shades of amber. Its embossed HOLTZERMANNS // PATENT / STOMACH / BITTERS These bottles are scarce. With the green examples being extremely rare.
There also is the most common one. It's a 4 roof rectangular amber cabin that is 9 ¾ inch tall which is embossed HOLTZERMANNS / PATENT / STOMACH / BITTERS.
There is conflicting information about the history of J. D. Holtzermann and his son Christopher August Holtzermann along with Christopher sons Louis J. Holtzermann and Jacob D. Holtzermann. The questions are did Christopher's father J. D. start the business and name it after himself or did Christopher start the business and name it after his two sons first letter in both of their middle names ( J D ).
He are some conflicting aguements. In the 1880 Miami Court History states the companies name as " J. D. Holtzermann & Son" J. D. Senior was born in Germany on Oct 22 1810 and move to Piqua in 1832 the same year he was married. This would make J.D. Senior 70 years old in 1880. The second conflicting information is that it thought that the two roof cabin bottle is older and rarer then the square bottle. My guess is that besides the back bar bottle that I have never got to see the next rarest bottle is the square. I have seen several of the 3 different cabin shape bottles and only one square bottle.
Picture below is from a unknown sorce.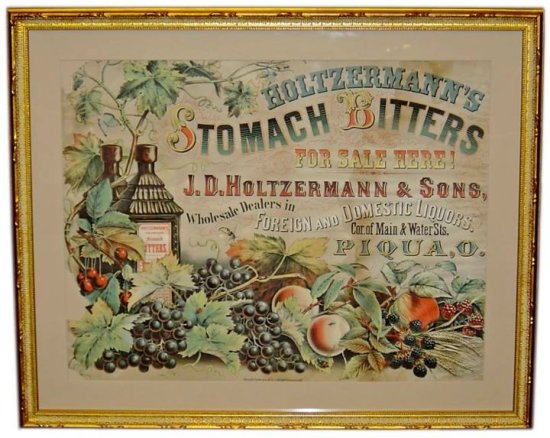 Below is a photo of a dose glass from Piqua.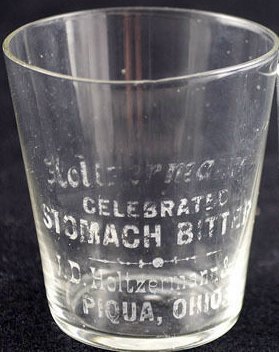 References:
1880 Miami County Auditor Records Collection.
The Troy History. 1880 Piqua Miami Helmet Newspaper Nov 4 1880.
Antique-Bottles.net
Frank & Frank (Wicker) Bottle Collection.