WACLAV FRANCIS SEVERA : STOMACH BITTERS
Bottle reads W.F. SEVERA // STOMACH BITTERS. Below are photos of this bottle.

.

.

..

Waclav Francis Severa was born in Czechoslovakia in 1853. In 1868 at the age of 15 he would immigrate to America ending up in Racine, Wisconsin were he had relatives. While there he would learn the trade of truck making. In 1876 he moved to Cedar Rapids, Iowa to continue working in the trunk making trade. One year later in 1877 he was working as a drug store clerk. By 1880 he would open his own drug store in cedar Rapids. W. F. Severa was very successful in the drug store business. By 1895 he was given a patent for several medicines and toilet preparations. He would end up producing over 32 kinds of products including the Stomach Bitters which is in the photo above. The directions on there labels were in English and Polish and the latter Stomach Bitters bottle was a Label only. In 1901 he would sell the retail part of the business. Now the business would become W.F. Severa Co. manufacturers of proprietary medicines. W.F. would also own a printing office along with his drug business were he would print his own circulars and almanacs. Having printed over a half a million copies by 1901. W.F. was very successful, he was the founder of the Bohemia America Saving Bank and held interests in the Cedar Rapids Light & Power Co, the Merchants National Bank of Cedar Rapids, the Cedar Rapids and Iowa City Interurban Railway and the Cedar Rapids Life Insurance Co. In 1911 W. F. only son Lumir would become Vice President of the W.F. Severa Co. W.F. Severa was listed in many drug catalogs as early as 1887 from M.P. and others years in the JP & K Co. catalogs.
Below is another product manufactured by this company.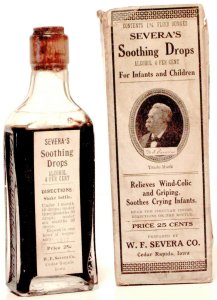 .Courtesy of ebay.
References:
Linn County Iowa Biographies.
Bottle Bottles by Carlyn Ring & W. C. Ham.
Frank & Frank Jr. (Wicker) Bottle Collection.