GILBERDS IMPROVED (STAR) JAR
This unusual fruit jar is called the Gilberds Improved (Star) Jar. The jar was made by the Gilberd & Barker Manufacturing Company. The lid on this jar is embossed Gilberds Jar Jamestown, N. Y. Pat July 31 83. The bottom of the jar has a groove in it so the wire bail can fit in the groove securely and not slip.
Below is a photo of a the quart size jar. There is also a pint and a half gallon sizes.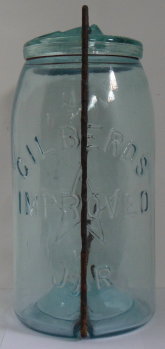 References:
Frank & Frank Jr. (Wicker) Fruit Jar Collection.