JOHN W. PERKINS & C0.: THE GLOBE TONIC BITTERS
John Warren Perkin was born in Weld, Maine on March 17 1820. He was one of the sons of Dr. Lafayette and Dorces (Abbott) Perkins. John attended the common schools of Weld and Farmington Academy. In 1840 at the age of twenty he started in the drug business in Farmington, Maine. In 1853 he moved to Portland and opened a wholesale drug, paint and oils business with L. H. Titcomb. The business and warehouse was located at 94 and 96 Commercial Street and 2 and 4 Customhouse Wharf in Portland, Maine. One year later L. H. Titcomb would retire. John W. Perkin brother Benjamin A. Perkins who had been a member of the company Curtis & Perkins from Maine & New York would join his brother in business. The business was called J. W. Perkins & Co.
For more about Benjamin Perkins refer to article 100. In 1848 Jeremah Curtis and Benjamin A. Perkins would become partners in a medical business. The business was located at No. 1 West End Kepduakong Bridge Banger, Maine. The business was called Curtis & Perkins Proprietors. By 1849 they started bottling Jeremah Curtis's mother-in-law Mrs. Charlotte N. Winslow's syrup which she compounded from sulfate or morphia, sodium carbonate, spirits fueniculi and aqua ammonia.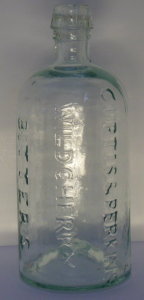 In 1863 J. A. Titcomb would join the firm until his retirement in 1869. Now J. Henry Crockett would become a partner in the company. In 1880 a W. S. Kyle would join the firm until his retirement in 1890. In January of 1892 Mr. Crockett would die. The Perkin's brothers now would have George L. Fogg, Bion R. Lane and William P. Millay join the company.
Here is a little information about John's father Dr. La Fayette. Dr. La Fayette took up the study of medicine under the famous Dr. John C. Warren. He would become the surgeon of the ship "Argus" during the War of 1812. After the war he returned to Boston and graduated from the Harvard Medical College in Aug 31 1814.
Below are photos of just one of the company's products. This square amber bitters bottle is embossed The Globe / Tonic // Bitters.

.


..

. Courtesy of GWA.
Listed in the Maine Business Directory 1867-1868. John W. Perkins & Co. as sole proprietors of this product.
Below are advertisements from the John W. Perkins Company.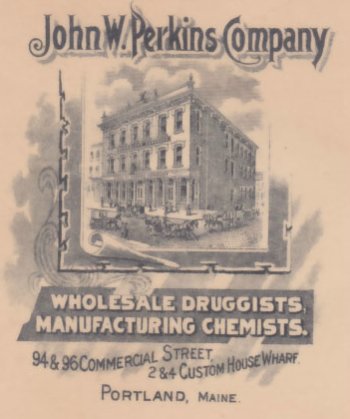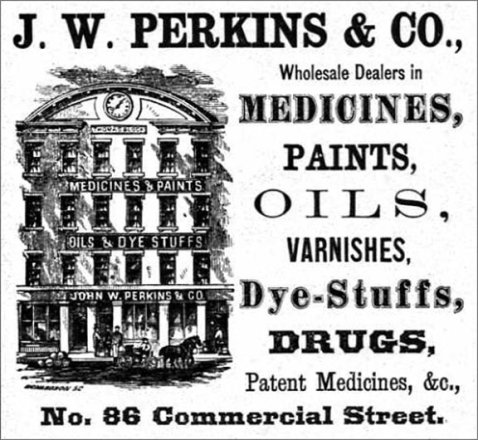 . From the 1869 Portland, Me. City Directory.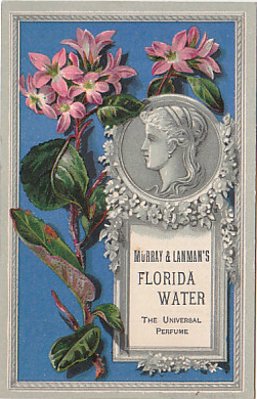 .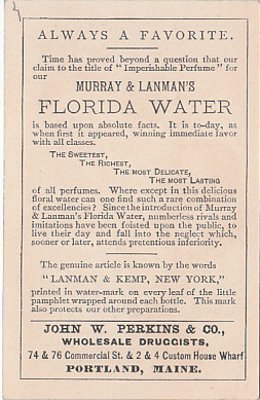 Below are photos of a Globe Tonic Bitters wood crate box. ( Photos courtesy of ebay.)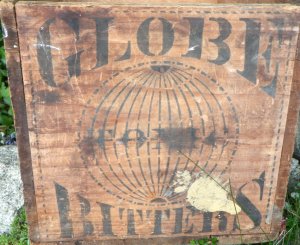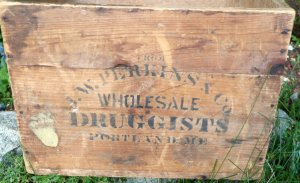 References:
Biographical Review Publishing Co. 1896.
Biographical Review - Cumberland Co. - John Warren Perkins.
Maine Business Directory 1867-1868.
Bitters Bottle by Caryln Ring & W. C. Ham.
Frank & Frank Jr. (Wicker) Bottle Collection.

.