R. D.WEISSKOPF: KOBOLO TONIC STOMACH BITTERS
Kobolo Medicine Company R. D. Weisskopf & Co. manufacture and proprietor is listed in several medical publications credited for Kobolo Tonic Stomach Bitters. The bottle is not embossed with the word bitters and is not listed in both Bitters Bottle books By Ring & Ham. It must have been a label bitters only.
John L. Smith was the president of the R. D. Weisskopf & Co. Proprietors. He started making Kobolo Tonic Bitters sometime in the 1890s. He was killed in a burglary in 1906.
Below are photos of this amber square bottle. It is embossed THE KOBOLO TONIC MEDICINE CO. // CHICAGO, ILL.
..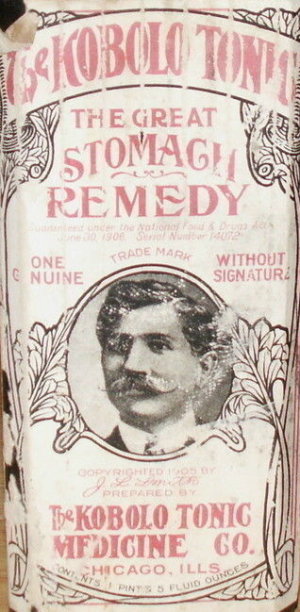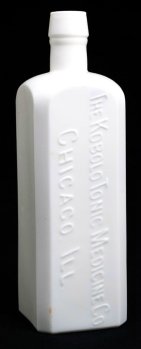 . One of a kind milk glass prototype. Gary Katzen Collection.
Below is a ad from 1905.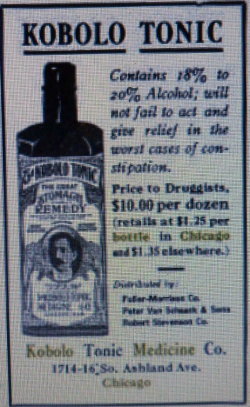 Listed in the Chicago Directories from 1901 to 1918.There are two spelling for Weiskopf or Weisskopf. The company Weikopf was dealers in wholesale whiskey and was located at 631 Blue Island Ave. and the company Weisskopf was located at 1714 South Ashland Ave. Chicago, Ill. It's not sure if there is a connection between both companies.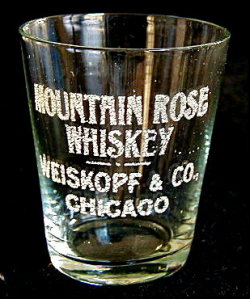 Listed below are some other Kobolo medicine bottles. Kobolo Tonic Chicago, Ill. This aqua bottle is 8 ¾ in tall and is a rectangular shape. Also there is a Kobolo Tonic Medicine Co. Chicago, ill. This milkglass bottle is 8 ¾ inches tall and is a square.

References:

1905 National drug Clerk.

NARD Journal Vol.24 Issue 23.

Antique American Medicine Bottles by Matt Knapp 2012.

www.prepro.com

Frank & Frank Jr.(Wicker) .Bottle Collection.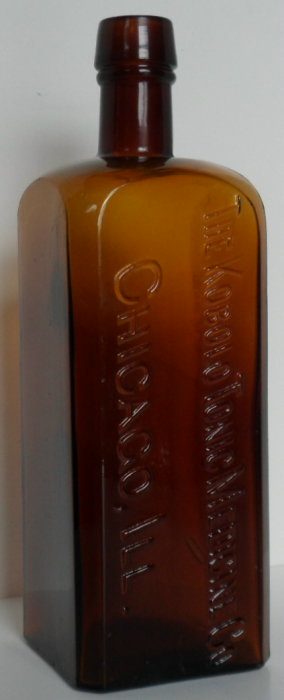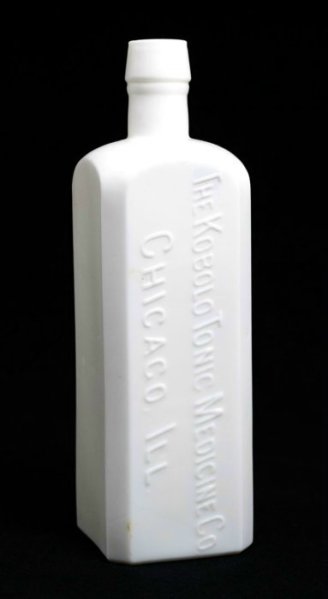 . Gary Katzen Collection.