CHAS BOYER ??: BOYER'S STOMACH BITTERS CINCINNATI

I am not sure if Chas Boyer was the proprietor of the Boyer's Bitters Company or not. A Chas Boyer is listed in the Cincinnati City Directory first as a clerk in the 1883. In 1885 Chas is listed as a saloon owner located at 50 west Front Street Cincinnati and continued there until 1891. In 1892 Chas has a new location now at 82 Broadway Street. 1895 was the last year Chas is listed under saloons.

On Dec 10, 1890 The Boyer Bitters Co. filed for an application for Boyer's Celebrated Stomach Bitters and Blood Purifier.

In 1894 the Boyer's Sure Cure Bitters Co. is listed and located at 92 E. 3d Cincinnati.

In 1912 the Boyer Bitters Co. is listed at 111 Sycamore Street Cincinnati.

In 1913 the Boyer Bitters Co.is listed as a manufacturing & proprietor of medicines and located at 341 East 5th Street Cincinnati.

There are two sizes of these whiskey style bottles. One is 11 inches tall and the other is 10 1/8 inches. Both have 28 ribs at the base and at the shoulder of the bottle. The colors are clear or sca.

Below is the 11 inch variant embossed BOYER'S STOMACH BITTERS (arched) / CINCINNATI.



.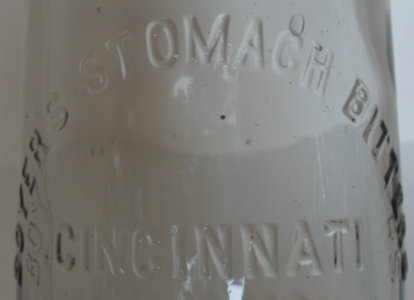 References:

Cincinnati City Directories 1883-1913.

Gazette of the United States Patent Office.

Bitters Bottles by Carlyn Ring & W. C. Ham.

Frank & Frank Jr.(Wicker) Bottle Collection.