AMON L. SCOVILL :DR. A. ROGER'S LIVERWORT TAR & CANCHALAGUA
Amon L. Scovill wa
s the proprietor of Dr. A. Rogers Liverwort Tar & Canchalaqua. He formed a partnership in 1848 with Henry E. Morrill to market this product. He started advertising this product in the Family Receipt book & Useful Medicine Adviser as early as 1850. This booklet was published by the A. L. Scovill & Co.
Here is a little about Amon L. Scovill. He started out as a druggist with the F. D. Hill & Co. around 1849. By 1853 he had started his own company. The business was called A. L. Scovill & Co. manufacturers of patent medicines. O. R. Baker worked with him at that time. The business was located at 179 W. 4th and 60 W. 3rd Street in Cincinnati, Ohio.
He would also start a New York branch around the same time. Initially it was located at 65 Warren Street and was listed on Broadway Street in 1855. In 1856 until 1865 the business was located at 12 W. 8th Street in Cincinnati. In 1859 and in 1861 Abel D. Breed was listed as a part of the A. L. Scovill & Co. and in 1865 through 1867 Abel D. Breed was listed as sole proprietor of the Scovill & Co. in Cincinnati. It's thought that Amon Scovill at the age of 36 had return to Bridge Water, New York to resume a practice in medicine.
In 1874 the Henry, Corran & Co. would take over the Scovill business. In 1875 John F. Henry, Corran & Co. would run a full page ad in their catalog for Scovill's preparations. Amon L. Scovill would be connected with the business at least until 1877. In 1878 the directories only list a home address.
Here is some conflicting information about Amon L. Scovill. He formed a partnership with Henry E. Morrill in 1848 to market Dr. Roger's compound Syrup of Liver Wort, Tar & Canchalagua. By 1857 the firm manufactured many of their medicines including D. Wm. Hall Balsum for the Lungs, Scovill's Compound Extract of Sarsaparrilla and Stillingia and Circassian Hair Restoration. He left the company for a while and return in 1867.
Below are photos of ads for this product rom 1850 and 1853.

From 1853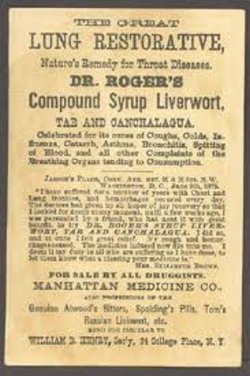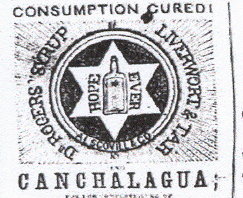 Below are photos of this rectangular shape aqua color smooth base bottle. It is embossed DR. A. ROGERS LIVERWORT TAR & CANCHALAGUA // A. L. SCOVILL & CO / CINCINNATI.

.

.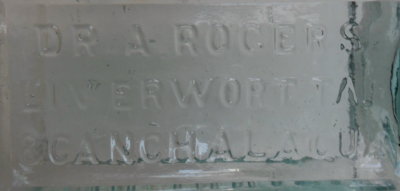 There are several variants of this bottle. There are open pontil, iron pontil and smooth base variants. Also either from Cincinnati or New York or both.
Other Dr. A. Roger's product were Dr. Roger's Indian Fever Cure and Roger's Vegetable Worm Syrup Cincinnati.
Below is a 1 cent Revenue Tax Stamp from the A. L. Scovill & Co..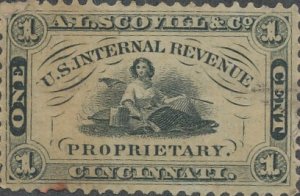 References:
Cincinnati City Directories
American Whig review vol. 9, vol. 15.
The Family Receipt Book & Useful Medical Adviser 1853.
www.hairraisingstories.com
www.rdhinstl.com
Antique American Medicine Bottles by M. Knapp
Frank & Frank Jr.(Wicker) Bottle Collection.