PRICE'S PATENT CANDLE COMPANY LIMITED
The Price's Patent Candle Co. was started by Edward Price & Co. in 1830. In 1847 the company was now called the Price's Patent Candle Co. and was run by William Wilson. The company had production facilities in London, Liverpool and Manchester England. The company's main business was candle making. Then it branched out and started importing large amounts of oil to the U. K. for distillation.
Their major product were benzene which was used for cleaning, kerosene for lamp oil, paraffin for candles and soaps along with heavy oils used for lubrication. The company would export large amounts of kerosene to America until oil was discovered in Pennsylvania in 1859.
By 1858 Price's company held 114 patents for different candle manufacturing inventions.
Pharmaceutical beginning.
The by-product of saponification included glycerin. George Wilson manufactured and promoted this by product. By 1870 it was being used as a treatment for burns and skin disease, as a food preservation, an additive for paints, photographic emulsion, a suspension for vaccines and as a base for soaps.
Below are photos of their 7 inch tall cobalt blue in color wedge shape bottle embossed PRICE'S / PATENT / CANDLE / COMPANY / LIMITED.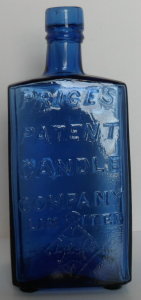 .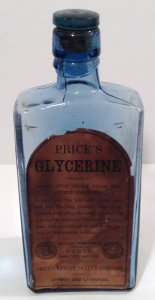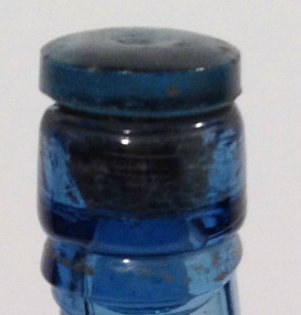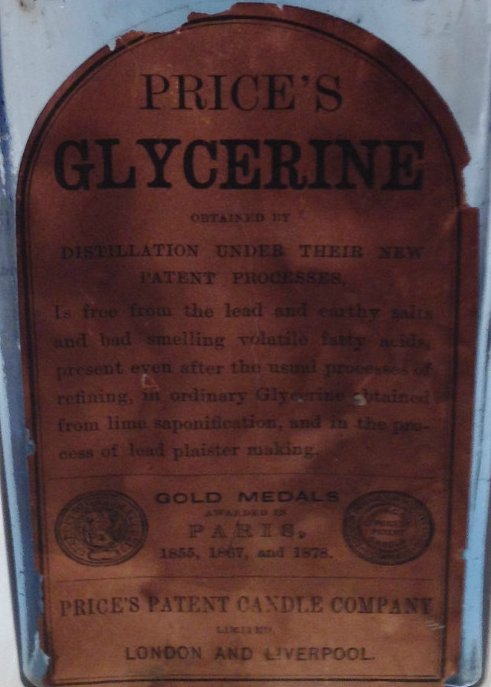 .Label bottle courtesy of ebay.
These bottles also come in the color of aqua and may be the earliest.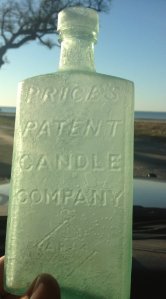 .Photo courtesy of ebay.

From Wikipedia, the free encyclopedia.
Glycerol (or glycerine, glycerin) is a simple polyol compound. It is a colorless, odorless, viscous liquid that is widely used in pharmaceutical formulations. Glycerol has three hydroxyl groups that are responsible for its solubility in water and its hygroscopic nature. The glycerol backbone is central to all lipids known as triglycerides. Glycerol is sweet-tasting and of low toxicity. Applications Food industry, Pharmaceutical and personal care applications, Botanical extracts , Antifreeze and Chemical intermediate .

Below are some ads from this company.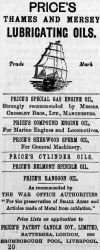 ..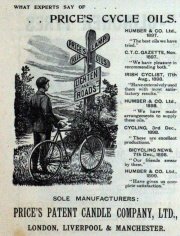 ..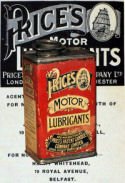 By the 1900s this company was the largest manufacture of candles in the world. Soon there were factories in Johann burg, Shanghai, Chile, Rhodesia, Morocco, Pakistan, New Zealand and Srilanka.
Through the years many companies bought and sold this company including BP and Shell.
References:
www.gracequide.co.uk/prices-pantet-candle-co.
www.vintagegarage.co.uk.
Frank & Frank Jr. (Wicker) Bottle Collection.