DR. ALFRED G. STANLEY : SOUTH AMERICAN INDIAN BITTERS
Alfred G. Stanley was born January 24 1845 in Salisbury England. There he would attend the College of Salisbury. He would learn the drug business with Roberts & Son, who he spent four and one half years with. Then he went to London and worked for the well known firm Peter Boully, retail druggists of London. Alfred would relocate to America in 1869 and for a short time he live in New York. He would move to Philadelphia were he would work for Ellis Sons & Co. In 1871 he would relocate again to the corner of Main St. and Market St. in Lyken's P.A. Here he would open up his own first class drug business and general supply of all kinds of drugs. He acquired a reputation of being one of the most reliable druggist in the county along with the surrounding counties. Alfred was married in 1873 to Mary Spoeri in Lyken's. They would have seven children, his son Frederick would became a druggist and work with him. The American Journal of Pharmacy lists Alfred in the graduating class of 1880 from the Philadelphia College of Pharmacy.
Dr. Alfred Stanley would produce his Dr. Stanley's South American Indian Bitters from 1878 to 1906. He was also the President of the Gratz Agricultural Society for sixteen years and President of Lyken's Agricultural Society for three years. He was a collector of rare stuffed birds from various parts of the world which he had in his possession. Below is a photo of the DR. STANLEY'S / SOUTH AMERICAN / INDIAN BITTERS.

This example is in the color of amber. He also had an aqua example. Below are two adds that he had place in the 1902 Greater Harrisburg Area Polk Directory.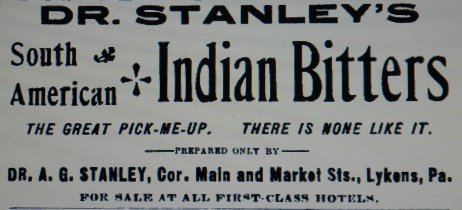 Below is a dose glass from this company.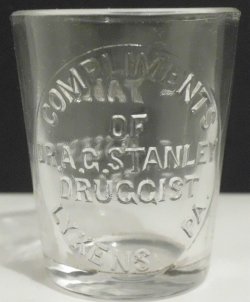 .Courtesy of ebay.
References:
1902 Greater Harrisburg Area Polk Directory.
J. M. Runk & Co. Commemorative. Biographical of Dauphin County.
Frank & Frank Jr. (Wicker) Bottle Collection.