HENTZ'S CURATIVE BITTERS PHILADELPHIA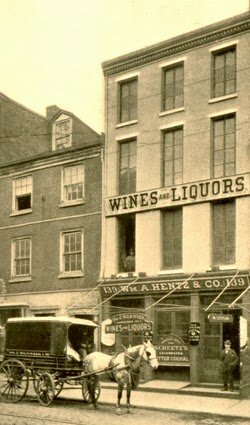 .Wm A Hentz & Co. 139 Street.
There are two companies in Philadelphia with the name Hentz's that were in the liquor business. Wm A. Hentz's & Co. created the Hentz's Curative Bitters.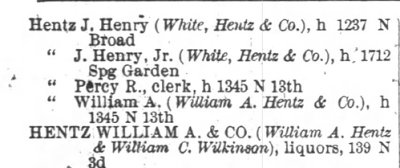 You have the White, Hentz & Co. established from 1793- 1918. In 1849 William R. White and j. Henry Hentz formed the partnership. The name would stay the same but in 1895 J. Henry Hentz and his son J Henry Hentz Jr. would be partner now. There last address was 222-224 N. 2nd street from 1870 to 1918.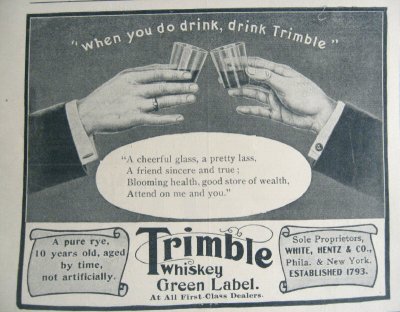 The other company was William A. Hentz & Co. from 1871 to 1893. Located at 139 N. 3rd Street. William must have partner with Wm. C. Wilkinson. There is a letterhead from 1885 with both names listed. This letterhead say that they were Importers and wholesale dealers in wines and liquors. Manufacturers of and wholesale depot for Scheetz's Celebrated Bitter Cordial. The time line for this company is William A Hentz (1871-1877), William A Hentz & Co (1878-1893) then became Wm Wilkinson. The company used the brand names: "Stylus Club", and "W. H. & Co. Rye Est. 1793."

In 1893 Hentz would die. Wilkinson would purchase the entire interest of stock from the heirs of the deceased. The firm would continue at N. Third Street address advertised now as WM. C. Wilkinson "Successor to Wm. A. Hentz & Co.".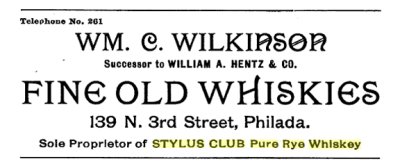 Above is an ad for this company.
Percy son of Wm. A. Hentz objected strongly for Wilkinson using the phrase "Successor to Wm. A. Hentz & Co.". Percy and his mother went to court seeking an injection to forbid him from using the phrase or the name Hentz. The judge was in favor of Wilkinson and charged Percy and his mother to pay all court costs. Wilkinson would continue to use the phrase in his advertisements.
Upset with the judges ruling Percy Hentz would start his own liquor dealorship in 1894 right next door to Wilkinson Company at 143 N. Third Street. His advertisement would read 'The only Hentz on Third Street". His main product was Hentz's Curative Bitters to compete with Wilkinson's Sheetz's Bitter. Percy sales expanded not only in Pennsylvania but in New Jersey, Delaware and New York. For almost a decade the side by side competition would continue until Percy would move to 5 Arch Street. Percy Hentz business would disappear from the business directory in 1913. Wilkinsons would discontinue in 1918.
The Scheet'z Celebrated Bitter Cordial bottle is the same as the Hentz's bottle in shape and size. Just a guess but I think the company that produced Hentz's Curative Bitters was the William A Hentz & Wm. C. Wilkinson.
For more about the Scheet's Celebrated Bitter Cordial refer to
Article # 118: JACOB SCHEETZ: CELEBRATED BITTER CORDIAL
Below are photos of the square shape Hentz's // Curative / Bitters // Philadelphia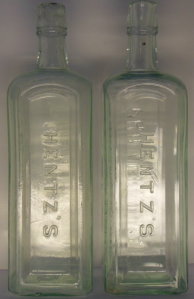 .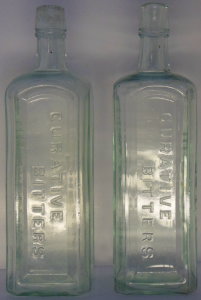 .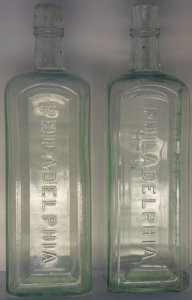 Here is the a 4 ¼ in tall sample bottle embossed Free Sample /Hentz's Curative / Bitters.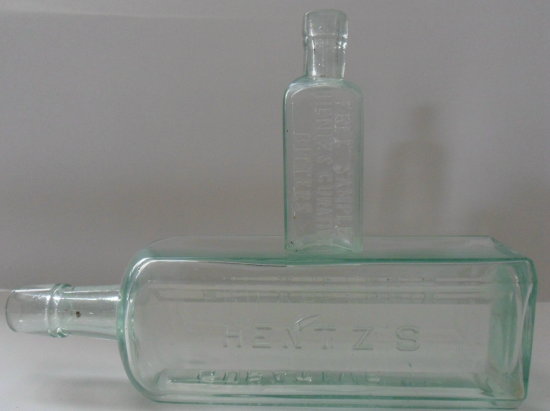 There is also a 9 5/8 in tall Hentz's / Curative Bitters (note without Philadelphia) both in a greenish aqua or pale green.
References:
Bitters Bottle by Caryln Ring & W. C. Ham.
www.prepro.com
www.peachridgeglass.com
Frank & Frank Jr. (Wicker) Bottle Collection.


.