GEO. H. FICKARDT: ANGEICA BITTERS OR POORMAN'S TONIC
George Fichardt was born in 1823 in Pennsylvania. He would marry Caroline Lutz on January 9 1845 and move to Circleville, Ohio sometime between 1847 and 1850. He would enter a partnership with J. A. Troup from the Circleville Drug Store which was located on Main Street. Below is an ad from 1850 which both names.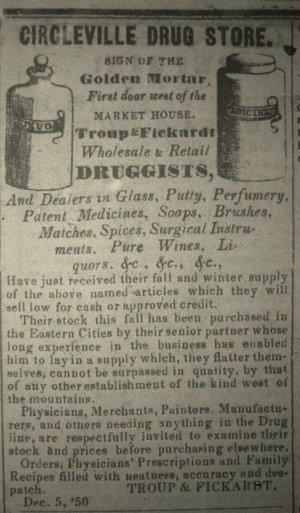 . From Dec. 5 1850.
There are four molds which have TROUP & FIKARDT DRUGGISTS CIRCLEVILLE, O. embossed on them. Both open pontil and iron pontil.
Sometime in 1854 the partnership with J. A. Troup would end and George Fickardt would from a new partnership with Dr. Marcus Brown who was a well known doctor from Circleville, Ohio. Dr. Brown did this mainly for investment reasons. The partnership lasted till 1877. Below are two ads from this era.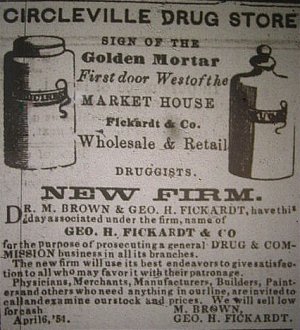 . From April, 6 1854.
On May 11, 1878 George filed for a patent for his ANGELICA / BITTERS / OR / POOR MAN'S / TONIC / GEO. H. FICKARDT / CIRCLEVILLE / OHIO. This product was one of his most popular products. Below are photos of this product.

.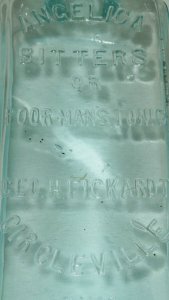 In the latter part of the 1880s into the 1890s he bottled his FICHARDT"S / POOR / MAN'S / TONIC / CIRCLEVILLE / OHIO with a man holding his belly. Below are photos of this bottle.
.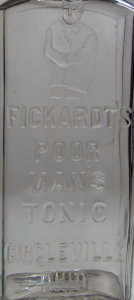 In the 1879 Circleville directory is listing him as Druggist Dr. George H. Fickardt.
Eventfully the business was listed as the George H. Fickardt & Son. His son George Jr. who graduated from the Ohio State University with a bachelor of science in pharmacy would take over the business.
Other bottles from this firm were colored druggist bottle embossed Geo. H. Filkardt Druggist Circleville, Ohio in greens, light amber and amber in three sizes known. Clear druggist bottles with the (Flear De Lis ) Fickardt Druggist Circleville, O. in five sizes known. There are also round cylinder bottles in different sizes in shades of blue green embossed Geo. H. Fickardt Druggists Circleville, Ohio. He also had a bottle embossed Fickardts Cough Syrup Circleville O.
References:
1878 Official Gazette of the U. S. Patent Office.
Bitters Bottles by Carlyn Ring & W. C. Ham.
Antique American Medicine Bottles by M. Knapp.
Who Whos April 1912 The Ohio State University.
Frank & Frank Jr. Bottle Collection.