ROBERT D. WYNKOOP: TONIC MIXTURE

A childhood bottle digging friend and fellow bottle collector Dennis Easterday stopped by my shop today to show me his latest finds from this weekend. He went to an estate auction in southern Michigan last Saturday and purchased a box of bottles. Inside this box was a badly cracked, Dr. White's Pulmonaria for Coughs and Colds from Indianapolis, Indiana. There were also three Peterson's Family Medicines from Marshall, Michigan and a few common medicines. The standout was an open pontil, Wynkoop & Cos. Tonic Mixture New York Warranted to Cure Fever & Ague in a medium cobalt blue. The average spent per bottle was one dollar.

Below are photos of this bottle. It is embossed WYNKOOPS & COs. TONIC MIXTURE NEW YORK WARRANTED TO CURE FEVER & AQUE . This open pontil bottle is 6 5/8 in tall and in a cobalt color.



.

.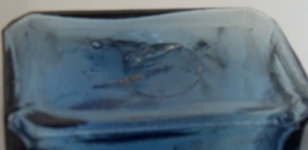 According to an article written by Dr. Richard Cannon.
"Wynkoop's Sarsaparilla bottles are very desirable due to their cobalt color, age, and rarity. The ones embossed Dr. Wynkoop's/Katharismic Honduras/Sarsaparilla on the front panel and New York on the side panel vary in height from 9 7/8 to 10 1/4 inches. These rectangular bottles are crude and often embossed lightly. Some have a double strike effect. One that I've seen rocked back and forth when placed upright. These bottles occur with an open pontil, iron pontil, and a smooth base. A broken one has been found with Katharismic spelled Kathmerithic. A recently discovered variant is a 9 1/2 inch tall, rectangular, cobalt, open pontiled bottle with a double ring collar rather than the usual single band tapered collar, embossed Dr. Wynkoop's/Balsamic Honduras/Sarsaparilla on the front, and New York, on the side. Dr. Ira Baker's / Honduras / Sarsaparilla, 10 1/2" tall, smooth base, aqua. The variant embossed Wynkoop's/Katharismic/Sarsaparilla/New York on the front is 9 5/8 inches tall, rectangular, cobalt, and has an iron pontil. The one pictured is from Dr. Sam Greer's collection. There is a sapphire blue variant the same height, with an iron pontil, embossed Wynkoop's/Katharismic/Sarsaparilla on the front and New York on the side.
The "giant variant" is a most impressive bottle! It's 12 3/4 inches tall, rectangular, cobalt with an open pontil and embossed Wynkoop's/Sarsaparilla/For The Blood/1/2 Gallon New York, all on the front panel. Dr. Greer's is pictured. He says two other are now known to exist.
Robert D. Wynkoop received his training as a physician with his father in Albany. He established a medicinal laboratory and sales outlet in New York City in the 1840s. Wynkoop copyrighted the words "Dr. Wynkoop's Katharismic Honduras Sarsaparilla" on November 16, 1847. Sometime in the 1850s, the firm was billed as Health, Wynkoop & Co. located at 63 Liberty Street, New York. Katharismic was probably derived from the Greek word Kathra or Kathario meaning to cleanse, purify, or restore. Other products included Wynkoop's Fever and Ague Cure, another great cobalt pontiled bottle, Wynkoop's Iceland Pectral, and Lyon's Kathairon, probably from the same Greek word. Wynkoop sold his products to Demas Barnes and John Park about 1858. However, even in 1896, someone was putting out a Wynkoop's Sarsaparilla according to the Peter Van Schaak Price Current & Illustrated Catalogue. "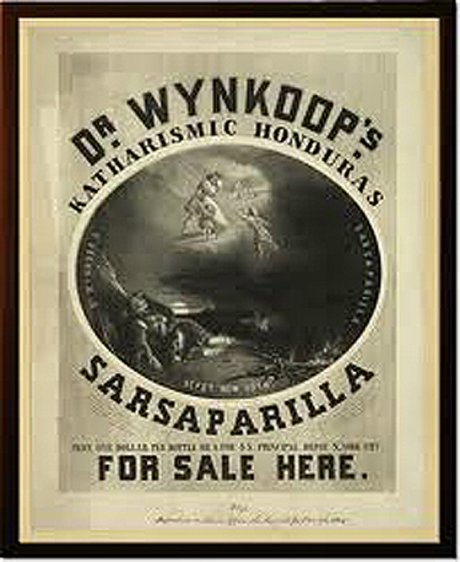 References:
Dr. Cannon Medicine chest article. (AB&GC magizine)
www.peachridgeglass.com (poster)
Frank & Frank Jr. (Wicker) Bottle Collection.