SINER'S CELEBRATED BITTER CORDIAL PHILADA
Here is a bitters bottle I just acquired without the s in the word bitters. I could not find any information about the maker of this product. It is similar in appearance to the Scheetz Celebrated Bitter Cordial. Below are photos of this square shape aqua in color bottle. It is embossed SINER'S // CELEBRATED / BITTER CORDIAL // PHILADA.

.

.

Below are photos of the Scheetz's and the Siner's Bitter bottles.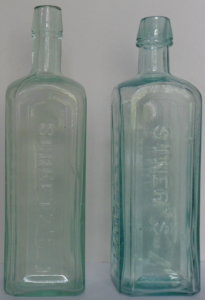 References:
Bitters Bottles by Carlyn Ring & W. C. Ham.
Frank & Frank Jr. (Wicker) Bottle Collection.


..