EDWARD E. HALL : HALL'S BITTERS BARREL
There is not a lot of information about Edward E. Hall and his Bitters bottles. We do know that he was a grocer and that he produced a very popular Bitters which he put in a glass bottle shaped as a barrel, in New Haven, Conn. Here's what we found in the New Haven City Directories.
1865: Hall Edward E. grocer, 227 chapel C. State, H 5 Academy.
1876: Hall Edward E. grocer, 212 State, H 12 Academy.
1883: Hall E. E. & Son (E. E. and E. Jr.) grocers 250 Chapel. Hall E. E. Jr. (E. E. Hall & Son) bds 12 Academy.
1897 Hall Edward R. (E. E. Hall & Son) 770 Chapel H 307 Lawrence. Hall Edward E. & Son (E. E. Hall) grocers 770 Chapel.
The first barrel that he would use was embossed Hall's / Bitters with 10 rings above and 10 rings below the embossing. This barrel is the most sought after being the rarest of the two barrels that he used. His second style of barrel was embossed Hall's / Bitters // E. E. Hall's New Haven / Established 1842. This barrel has 14 rings in four segments. This Bitters barrel was the most popular being listed as common in amber. Below are two barrels with different size applied tops.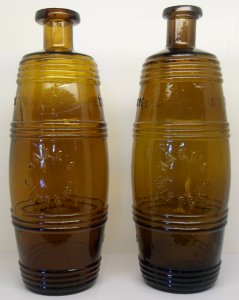 References:
New Haven Conn. City Directories, 1865- 76- 83- 97.
Bitters Bottles by Carlyn Ring & W. C. Ham.
Frank & Frank Jr. (Wicker) Bottle Collection.