JOHN RYAN: EXCELSIOR BOTTLE WORKS

John Ryan started the Excelsior Bottle Works in Savannah, Ga. in 1852 becoming the first soda bottler in the state. This company was manufactures of soda water and carbonated beverages. The business would expand and open branches in Augusta, Columbus and Atlanta. The company would use very colorful cobalt blue bottles along with other colors for their products and are very sought after to collectors. John Ryan would retire in 1879 and would pass away in Savannah, Ga. on March 23, 1885.

Below is an ad from the Diocesan Achieve. Notice in the ad it says Manufacture and Bottle of Soda Water, Foreign Mineral Waters, Porter, Ale, Cider, Cordials, Lager Beer, Syrups, Bitters, Essences, Ect. The address is at North side of Broughton, between Ball and Drayton Streets in Savannah, Ga.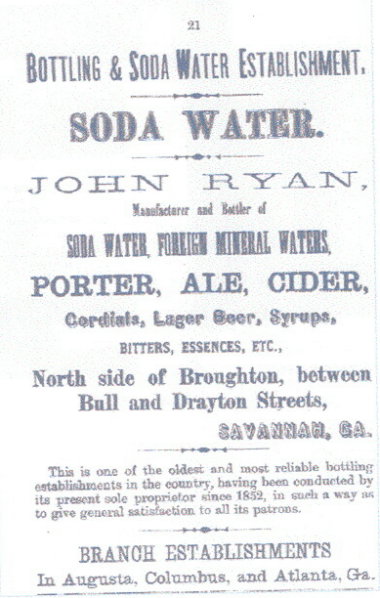 Yes the ad above does say bitters.

The Atlanta branch was only in business during the year of 1867 which make these bottles embossed with Atlanta much more sought after.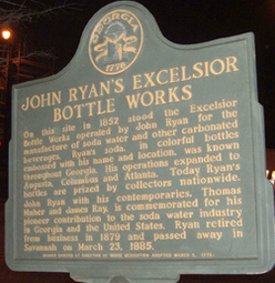 Historical maker.

Below are photos of their more common bottle embossed JOHN RYAN / 1856 // EXCELSIOR MINERAL WATER / SAVANNAH, Geo.



.



References:

Georgia Historical Society.

Frank & Frank Jr. (Wicker) Bottle Collection.



..