THOMAS McELDERRY SINCLAIR: T. M. SINCLAIR MEAT PACKING COMPANY: FRUIT JAR

Thomas McElderry Sinclair was born on May 14 1842 in Belfast, Ireland. He would learn the trade of meat processing from his father John and his uncle Thomas Sinclair. The two bothers started a meat processing company in Belfest, Ireland in 1832. The company was called the J & T Sinclair Company. The company processed pork for bacon and ham which they sent to England to be sold. The two brothers would open a branch in Liverpool, England. This is where T.M. would learn the trade.

In 1862 T. M. and his cousin would open a branch in New York. The New York branch did very well throughout the civil war until a fire destroyed the plant in 1866. Eventfully the company was looking to relocate to a place which was closer to their product. The Company would end up building a meat packing plant in Cedar Rapids, Iowa in 1871. The railroad played a big part in the move. The Sinclair Company would have trains ship their product to Chicago and then to New York. By 1874 the Sinclair Company was the largest employer in the region with over 400 people working at the plant and the fourth largest meat processing company in the world.




The first plant the Sinclair Company built in Cedar Rapids was located downtown on First Street. In 1872 the company purchased 16 acres of land along the Cedar River just outside the city limits. The Northwestern Railroad agreed to lay tracks directly to the plant.

The Sinclair Company would gather river ice for refrigeration to prevent meat from spoiling during warm temperatures.

The company daily would process an average of 3000 hogs in the winter and a 1000 during summer months.

On March 24, 1881 Thomas McElderry Sinclair while inspecting his plant would fall into an elevator shaft causing his death. His brother in law Charles Soutter who worked in the New York branch would assume control of the Cedar Rapids Company. The company would continue to expand under Charles Soutter control.

Below is a photo of a Sinclair truck.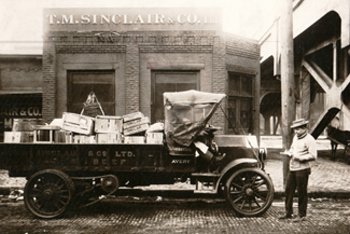 In 1913 the Chicago Firm of Schwarzchild and Sulzberger would purchase the company. By 1930 the Sinclair family would totally withdraw from the business.

Below are photo of one of the T. M. Sinclair & Co. LDT / Cedar Rapids / Iowa / Pork and Beef / Packers quart fruit jar.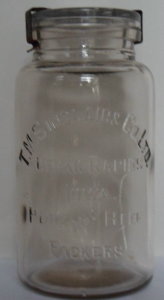 .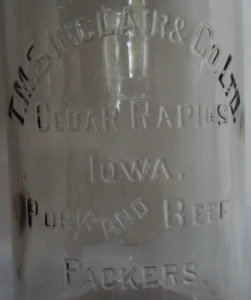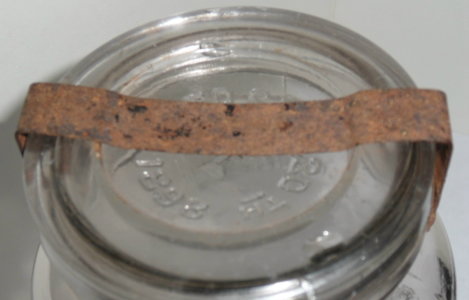 Caroline Sinclair widow of T. M. Sinclair had a Queen Anne style mansion built between 1884 and 1886 known as the T. M. Sinclair mansion.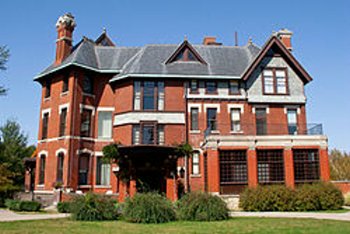 Below is a post card frommthe 1920s.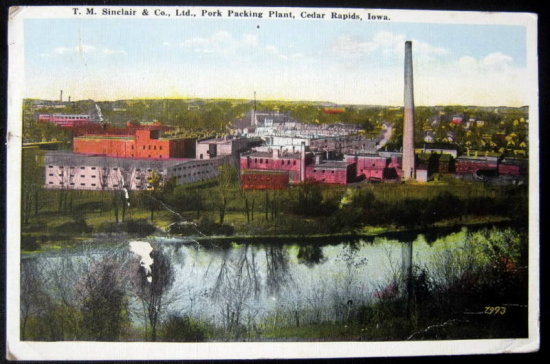 References:

www.brucemore.org

www.public.cue.edu

www.wikipedia.com

Red Book 10 by Douglas Lebourne Jr.

Frank & Frank Jr. (Wicker) Fruit Jar Collection.