JOHN A. LOEW : STOMACH BITTERS & NERVE TONIC
John A. Loew would start a liquor dealer business in 1873 in Cleveland, Ohio. By 1883 his two sons Chas H. and Dan Loew would now be part of the business they call J. A. Loew & Sons. In 1895 they would change the name of the company to Loew's & Sons Co. John would no longer be president. His son Chas would become president and his other son Dan would be sec. & treas. They would have a new partner Fred Bomonti how would be vice president. The company would stay in business till 1912 when they would disappear from the city directory. I could not find any information on John A. Loew being a doctor like the bottler reads. Besides the Loew's Bitters they also produced the brand called American Club Pure Rye.
The Loew & Sons company made four different sizes of there DR. LOEW'S CELEBRATED / STOMACH BITTERS & / NERVE TONIC // THE LOEW & SON CO. / CLEVELAND O. The 9 ¼ in. larger size of these square bottles with swirled fluting on the neck and shoulder come in different shades of green. Below are three different shades of this color.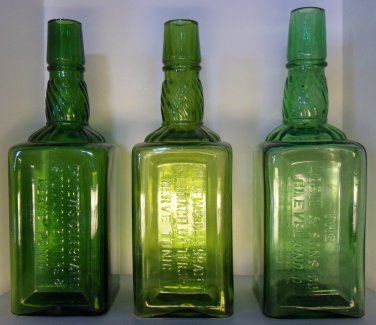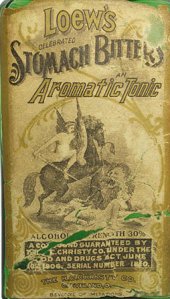 A Loews Lable.
The company also made this identical bottle above in a small size in amber, aqua and yellowish green. Along with two small square bottles. Loew's also made two sizes of LOEW'S STOMACH BITTERS in a round shape. These round bottles are extremely rare and most likely the oldest of the Loew's bottles. Below is one of their adds. The adds reads "Grower of California Wine's and Brandies, Importers Wholesale Liquor Dealers" also a shot glass of their brand "American Club Pure Rye.
The H. C. Christy Co. from Cleveland also made a large size of DR. LOEWS / STOMACH BITTERS // THE / H. C. CHRISTY CO. / CLEVELAND, OHIO and a LOEW' / STOMACH BITTERS // THE / H. C. CHRISTY CO. / CLEVELAND OHIO. in the identical style and color bottle. I can not find any connection with Loew's & Co. and the H. C. Christy Co.. There was a Mc Cart & Christy Co. from 1900 to 1906 and H. C. Christy Co. From 1914.
References:
Cleveland City Directories.
Bitters Bottles by Carlyn Ring & W.C. Ham.
Frank & Frank Jr. (Wicker) Bottle Collection.