HENRY SIERICH'S & CO: ROCKAWAY BEACH, N.Y.: RARE PINK COLORED SODA BOTTLE

Henry Sierich opened a soda bottling company in 1875 in Manhattan New York. The company would close in 1917 in Queens.

Henry Sierick's & Co. were members of the Rockaway Bottlers Protective Association. In 1907 this company would have Joseph Brand from the Bottle & Manufacture Association go after Nathan Goldberg of the Empire Bottling Works also located in Rockaway. Goldberg was arrested for the violation of the bottling act. Goldberg pleaded guilty and paid the fine of $ 1.50 which was imposed.

These soda bottles are quite common in clear. The photos below is one of these bottles in a rare pink color. The bottle is embossed Henry Sierich's & Co ( inside shield H. S. & CO. Trade Mark Est'g 1875- three embossed bottles ) (S. B.& M. Co on base) Rockaway Beach, N. Y.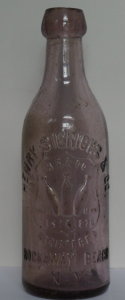 .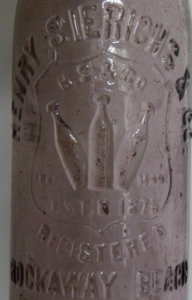 References:

www.mikesbottleroom.com

American Bottler Vol. 27 1907.

Frank & Frank Jr. (Wicker) Bottle Collection.