ZERA & CYRENIUS WAKEFIELD: WAKEFIELD'S STRENGTHENING BITTERS & WAKEFIELD'S BLACKBERRY BALSAM

Dr. Zera and Cyrenius Wakefield were native to Watertown, New York. Cyrenius would arrive in DeWitt County, Illinois in 1837. In time Cyrenius would open a country store. Cyrenius brother Dr. Zera Wakefield would arrive in Dewitt County in 1940. Zera would begin to produce medicines which become in high demand. The two brothers would establish a medicine manufacturing company in 1847.

After the death of Zera in 1848 Cyrenius would move the medical business to the corner of East Washington Street and Evans Street in Bloomington, Illinois in 1851. Here he would have a three story building constructed.

Cyrenius called himself a doctor but he never had any formal medical training. The business was called Dr. C. Wakefield & Company. In 1871 Cyrenius son Oscar and his son in law Charles S. Jones would join in him in the business. Cyrenius would pass away on Feburary 20, 1885 at the age of 70. After the death of Cyrenius, Oscar and his brother Homer continued with the business. The business Cyrenius and his brother Zera started survived into the 20th century. By 1969 the company changed the name to the CWB Corporation.

The company became very popular by using giveaway paper advertising items such as cashbooks, journals, ledgers, daybooks, medicine formula books and other items.

Below are some of their booklets they would giveaway.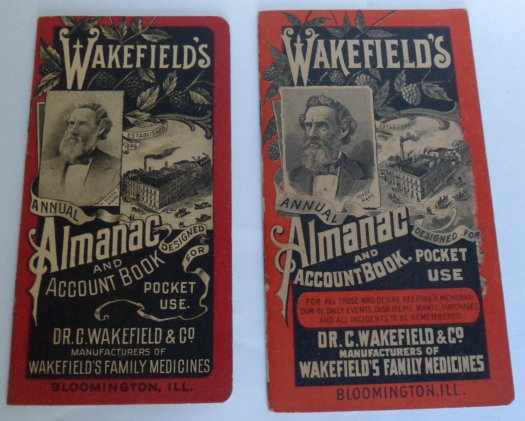 1903-1904 ......................................1894-1895

Below are photos of their 8 inch tall aqua in color bottle embossed WAKEFIELD'S STRENGTHENING BITTERS from the 1870s.






Around 1872 Wakefield's Strengthening Bitters changed to Wakefield's Wine Bitters. There are some examples of Strengthening Bitters bottles with a Wine Bitters label. Below is a advertisement for Wakefield's Wine Bitters.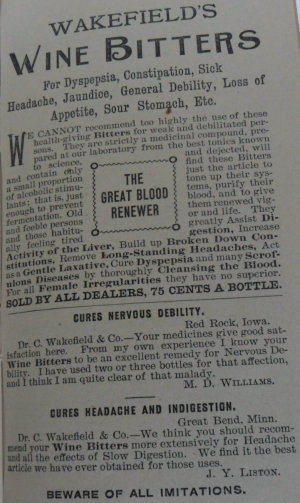 The Wakefield's best selling medicine was their Wakefield's Blackberry Balsam. This medicine was for treating diarrhea.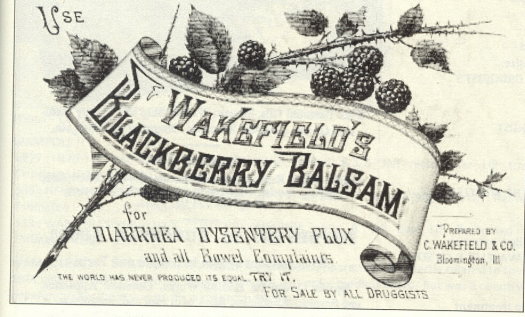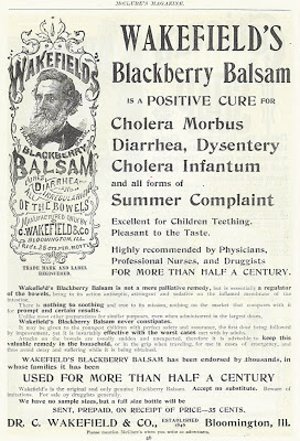 . Note the Dr.

Wakefield's Black Berry Balsam Compound was also advertised for treating colic and scours for your horses, colts and calves.

Below are photos of this bottle.



..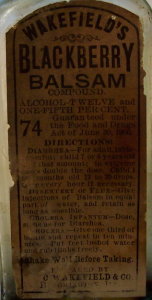 . These Black Berry Balsam Compound bottles courtesy of ebay.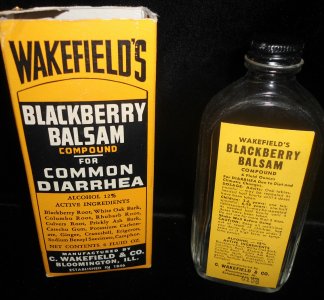 Here are some other medicines that the company had embossed bottle for.
Wakefiels's Cough Syrup.
Wakefield's Fever and Aque Pills.
Wakefield's Magic Pain Cure.
Wakefield's Nerve & Bone.
Wakefield's Fever Specific.
Below is a copy of a label for Wakefields Cough Syrup.



References:

C. Wakefield & Co. Chronicling Illinois.

Wakefield Genealogy.

Bitters Bottles by Carlyn Ring & W. C. Ham.

Frank & Frank Jr. (Wicker) Bottle & Paper Collection.