JAMES M. SOLOMON: OLD DR. SOLOMON GREAT INDIAN BITTERS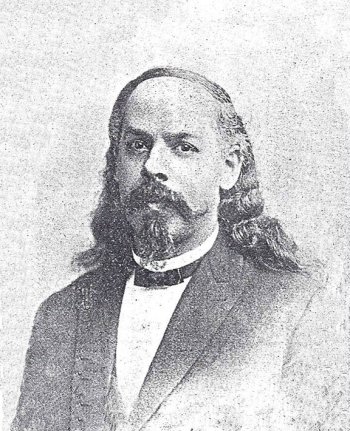 James M. Solomon from Attleboro, Mass. was known to be an Indian doctor. But he was neither a medical doctor or an American Indian. Like many other so called doctors he would concoct and peddle his herbal remedies.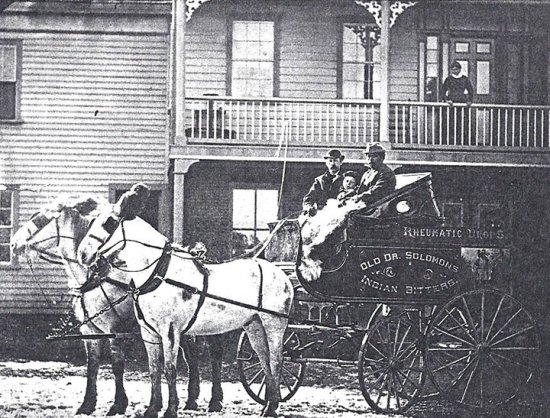 Below is a advertisement from the Fitchburg Sentinal Monday August 17 1877.



Solomon had a vision of a Sanatorium were he could try to cure cancer. In 1894 he would have O. F. Higgins who was a civil engineer survey the land where Solomon wanted to build his Sanatorium.

By 1901 O. F. Higgins completed the architect plans for the Sanatorium. Investor John M. Fisher pledged the $400,000.00 towards the project. In 1902 John M. Fisher and some other business men formed the Solomon Sanatorium Company.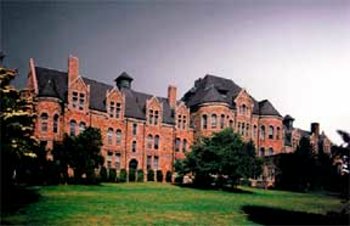 By 1906 the Solomon Sanatorium closed due to lack of funds. In 1908 the Sanatorium reopened by a family of doctors called Nicola from Battle Creek, Michigan.

By 1918 the Sanatorium would close again. By 1919 John Fisher gave the Solomon Sanatorium to the Methodist Board of Foreign Missions.

Below some new information.

James M. Solomon The Solomon Indian Remedy brands originated in Providence, Rhode Island by 'old' Dr. James M. Solomon, who was the sole proprietor of a wide variety of Indian medicines that made him famous. Solomon apparently was gathering herbs and roots in the woods on this property and he decided to become a medicine man. Solomon was born in Seekonk, Bristol, Massachusetts in 1812 from parents John Solomon and Amey Hill. He was neither an Indian nor a Doctor though he milked these titles with extreme efficiency in marketing his medicines. Later advertising touted him as "The Great Indian Medicine Doctor" and "The Root and Herb Doctor". He sold his homemade remedies to the Ashley Drugstore on Park Avenue in Attleboro, Massachusetts for many years. The remedies were sold as "Old Doctor Solomon's Indian Bitters."

Dr. James M. Solomon Jr., the seventh son, would carry the brand forward and later travel from hotel to hotel selling the Old Dr. Solomon Indian concoctions. He was based out of Attleboro, Massachusetts and apparently a graduate of the Columbia Medical College in New York. He was noted as a physician of skill and experience, standing high in his profession.

Below are photos of this aqua in color rectangular shape bottle which is embossed OLD DR. SOLOMON'S // GREAT INDIAN BITTERS.







There also is a variant embossed OLD DR. SOLOMON'S // INDIAN WINE BITTERS.

Below is a trade carde and a advertisement.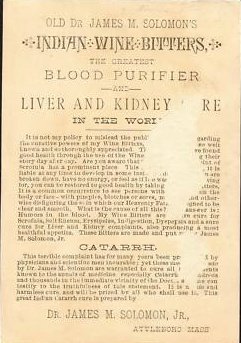 .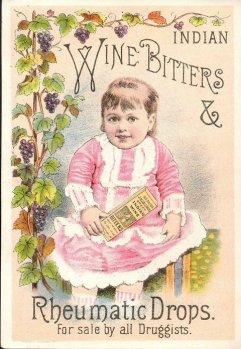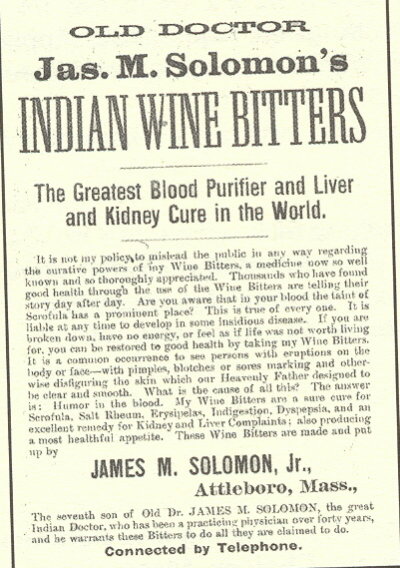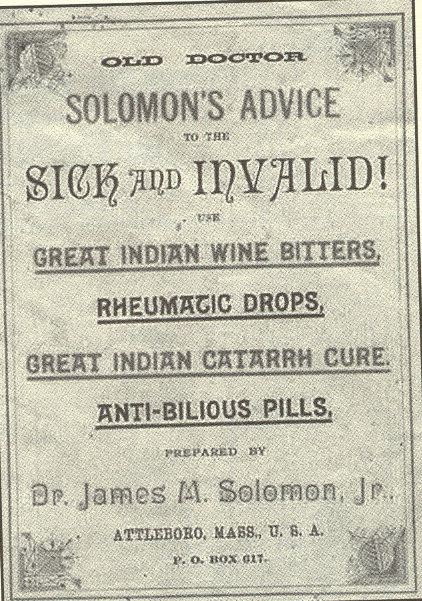 Here is a list of other Solomon's embossed bottles.
Dr. James M. Solomon Jr.'s / Cough Cure.
Old Dr. Solomon's Rheumatic Drops.

References:

Inland Massachusetts Illustrates 1891.

Bitters Bottles by Carlyn Ring & W. C. Ham.

Antique American Medicine Bottles by M. Knapp.

Frank & Frank Jr. (Wicker) Bottle Collection.