N. GREER & CO : GREER'S ECLIPSE BITTERS
Their is not a lot of information about the N. Greer & Co. The company was located in Louisviile, KY. And was listed as Sole Proprietors and Manufactures of patent medicines. They would use three different square bottles while in business. Below is a early variant embossed GREER'S ECLIPSE / BITTERS / LOUISVILLE, KY.
Below is a photo of their later square bottle which is listed as scarce. The bottle is embossed GREER'S / ECLIPSE BITTERS.

The other two square bottle are embossed GREER'S ECLIPSE / BITTERS. And are listed as rare. Below is a add that they used and a listing in the directory.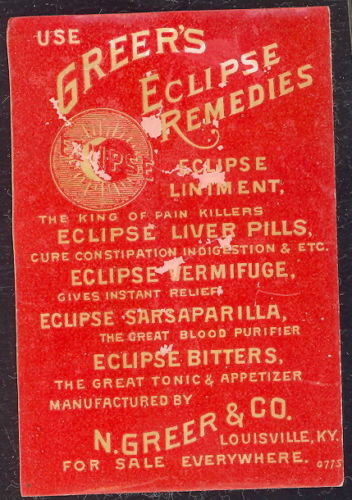 .Courtesy of ebay.
References:
The Educational Courant June 1888 & May 1889.
Louisville City Directory 1890.
Bitters Bottle by Carlyn Ring & W. C. Ham.
Frank & Frank Jr. (Wicker) Bottle Collection.