WHITNEY GLASS WORKS; TELEPHONE JAR: FRUIT JAR

On February 21, 1905 a trademark was issued for the word Telephone (concerning fruit jars) it was registered to the Whitney Glass Works from Glassboro, New Jersey for a new line of fruit jars called the "Telephone".

Whitney Plant Number 1 was where the Telephone Jars were made.

The Whitney glass Works was established in 1775.

These jars were offered in the sizes of 1 pint, 1 quart and half gallon and in the colors of clear, aqua, sky blue and apple green.

June 6 1912 was the last year that Whitney was listed as the maker of these jars. The New York Tribune reported that a fire which started in the number 1 factory would destroy the building which the Telephone jars were being produced.

Below are some ads for these jars.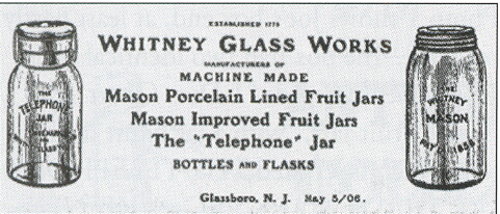 .May 5, 1906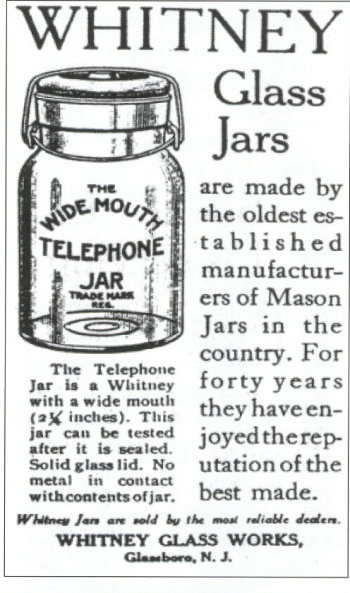 . From 1908 Ladies Home Journal.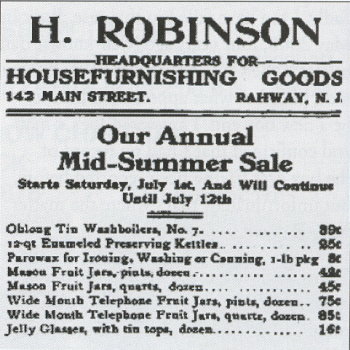 . Price list from the Rahway, New Jersey Herald Newspaper.

Below are photos of a 1 quart jar.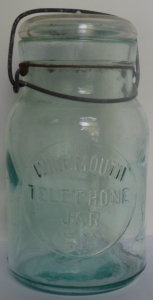 .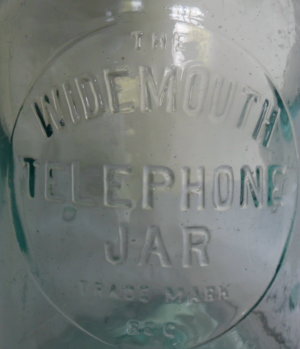 References:

A. B. & G. C. Magazine, Fruit Jar Rambles Article by Tom Caniff April 2013.

Ladies Home Journal 1908.

Rahway, New Jersey Herald Newspaper.

Frank & Frank Jr. (Wicker) Fruit Jar Collection. No longer have.