GWILYM EVANS: QUININE BITTERS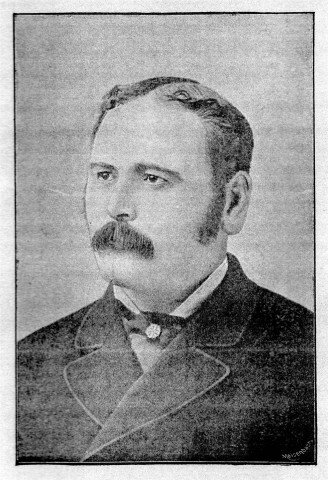 This company was called the Quinine Bitters Manufacturing Co. Ltd from Lianelly, Wales. Gwilym Evans was also from Westfa Lianelly, Wales. The company was formed sometime in the mid 1880s.

In 1899 Gwilym Evans was the high sheriff of Carmarthenshire.

From wikipedia.org "Carmarthenshire was originally created by the Statute of Rhuddlan in 1284. It became an administrative county in 1889 with a county council following the Local Government Act 1888. Under the Local Government Act 1972, the administrative county of Carmarthenshire was abolished on 1 April 1974 and the area of Carmarthenshire became three districts within the new county of Dyfed : Carmarthen, Dinefwr and Llanelli. Under the Local Government (Wales) Act 1994, Dyfed was abolished on 1 April 1996 and the three districts united to form a unitary authority which had the same boundaries as the original Carmarthenshire but remaining in the shrievalty of Dyfed".



From 1892.

New informatiom added.

Gwilym Evans JP was born at Dolauhirion Farm, Liandovery on May 15, 1851. He studied chemistry at Liandovery College and became a pharmaceuticail chemist. His started his own business which was located at 18 Stepney Street in Lianelli. Here he would make a fortune selling his patent medicine known as Ewilym Evan's Quinine Bitters. This product was marketed world wide and was said to be a cure all medicine.

Gwilym spent some of his fortune having a castle built. This building was constructed by a Swansea Company, Gustavus Brothers. It was designed by architects Messrs, J. Buckley Wilson and Glendinning Moxham all also from Swansea. The building was completed in February 1894. This red brick Queen Anne style building consisted of six shops and associated offices on the ground floor. Some of the building was being used as a gentlemans club. Gwilym would become the first Welshman to become president of the Pharmaceutical Council of Great Britian. Gwilym retired from the company and sold the company on the open market remaining one of its directors.

He died on November 25, 1905 at the age of 54 from gout. He is burried at the Felinfoel Church Cemetery.

Here is an unlisted variant of a Gwilym Evans Quinine Bitters bottle. Most of these bottles are embossed with Y G Co. on the bottom. The photos below of this Gwilym Evans Quinine Bitters has IXL embossed on the bottom of the bottle.



.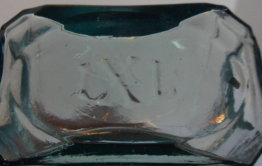 Below is an advertisement from the Welsh Review Advertiser from November 1891.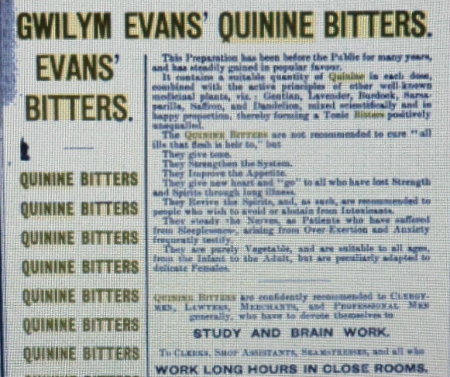 One table spoon of this medicine contained a full dose of Quinine along with medical herbs such as Sarsaparilla.

References:

Bitters Bottles by Caryln Ring & W. C. Ham.

Welsh Review Advertiser November 1891.

www.wikipedia.org

www.llanellich.org.uk/files/castle-buildings.html

Frank & Frank Jr. (Wicker) Bottle Collection.