PYROFITE FIRE EXTINGUISHER GLASS BOTTLE

This glass bottle extinuisher was maunfactured by the Cross Manufacturing Co. Located at 149 Broadway Street, New York City. The owner of the firm as J. C. Cross. He was also the New York manager for the CCC Fire Hose Company.

Pyrofite was a fire extinguisher soda and acid fliud type liquid. Claim to be in use since Sepember 1, 1918.

Below are photos of a 11 in. amber bottle with a label. there are also clear glass bottle variants.



.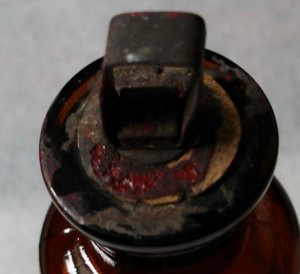 .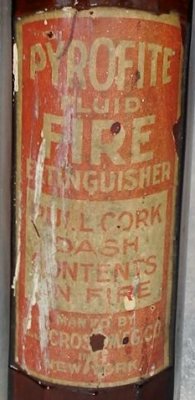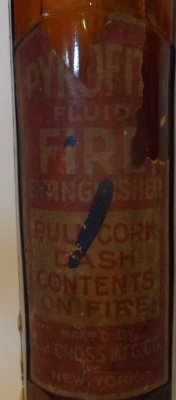 For other glass bottle extinguishers refer to .

ARTICLE 174: CARBONA FIRE EXTINGUISHER GLASS BOTTLE

ARTICLE 11: PRONTO FIRE EXTINGUISHER GLASS BOTTLE

References:

The American City Vol. 20 March 1919.

Photos courtesy of ebay.

Frank & Frank Jr. (Wicker) Bottle Collection.



...