DOCTOR MARSHALL'S SNUFF

Dr. Benjamin Marshall a practicing physician since 1821 was from New York. He first started to market this snuff product in the early 1830s. It was proclaimed that it was a cure for "nearly all common diseases of the head (to cure catarrh) "except wrong-headedness".

Around 1835 a Charles Bowen from Montpelier, Vermont became the sole proprietor of this product. From an ad from a newspaper we know that Bowen still was the proprietor in 1865.

Below is an ad for Doctor Marshall's Snuff.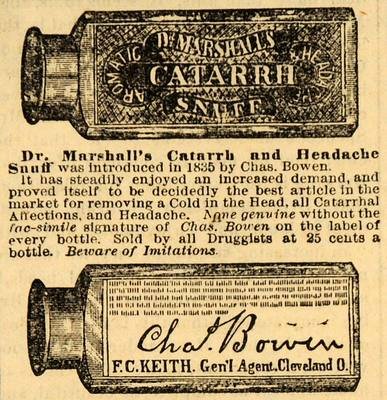 Below are photos of an early pontil bottle.





Below are photos of a labeled smooth base bottle.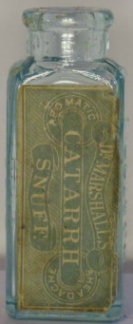 ..

..



Snuff is pulverized tobacco leaves. American Indians were sniffing snuff for the common complaint of dry nasal stoppage.

References:

Frank & Frank Jr. (Wicker) Bottle Collection.