THE NETTER BROTHERS: WHISKEY COMPANIES

The Netter boys were born in Germany and would immigrate to California. Eventually the brothers would end up in the East Coast of the United States. There were four brothers Henry H., Seligman, David and Theodore.

Three of the brothers started the Netter Bros. Company first showing up in 1886. This company was located at 2323 North Second Street in Philadelphia. Three years later, sometime around 1889 the company moved to a bigger location now located at 732 Third Street near Brown Street.

The Netter Bros. early trade mark was a "Woman standing next to a shield inside the man on the moon". Along with the labeled brand name "Golden Gate All Rye.

By 1890 their brother Seligman Netter would join the Netter Bros. Company.

Henry Netter was the first brother to leave the company in 1893 and branch out on his own. There is a listing for Henry H. Netter & Co. "Producers of California and Ohio wines and Brandies along with Pennsylvania Rye Whiskies". Others brand names of Henry's firm was "Demonte Rey Whiskey, High Ground, Roxana and Pen & Pencil". The Pen & Pencil brand was his most popular. He had this brand trademarked in 1905.

In 1897 David Netter would leave the Original Company and partner with Jacob Marcus. There company was located at 441-445 market Street. They were listed as Wine & Liquor Dealers, Importers, Distiller and Proprietor of their main brand "Telegram Rye". The bottles label proclaimed that this brand won a prize in Paris in 1900.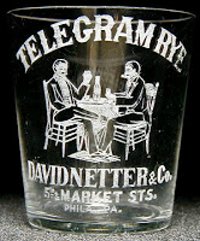 In 1900 Seligman Netter is listed as S. Netter with several address listed on North Third Street until 1911 then relocating to 736 Arch Street. His brand name was "Ryvalley Whiskey. He was also was listed as running the Netters Bros., which shut down in 1907.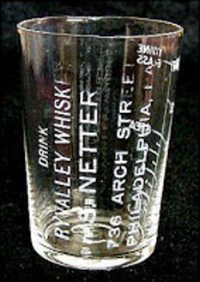 Theodore Netter established his own liquor business sometime in the late 1890s. The first location was at 54 North 13th Street. Then he move to 1232 Market Street next to the Savoy Theater. He also had a branch office in Chicago between the years of 1907 to 1914. Some of the brand names he used were "American Perfection", Crystal Creek Rye, Juniper Leaf Gin, Lord Cecil Gin, Netters Famous No. 10 Rye, Netters Silver Label and Old Phillie.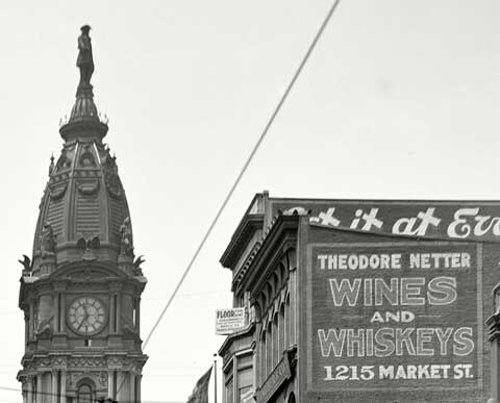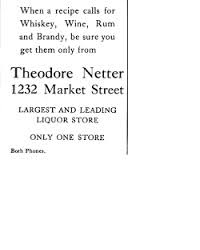 One of the bottles Theodore used was a small size barrel in clear, aqua and cobalt blue. The cobalt blue is the most sought after of the three. The barrel was embossed "Greeting". There was also three variant of a small pig figural in clear glass.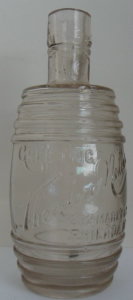 .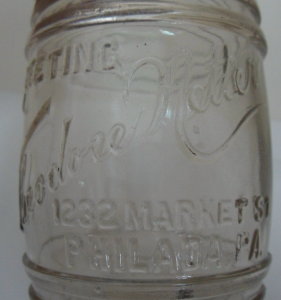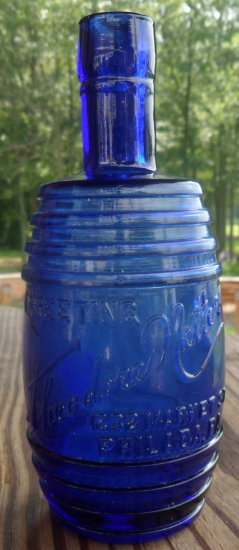 .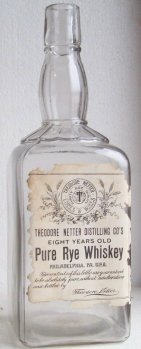 Prohibition shut down all four brothers whiskey operations according to the Philadelphia Directory listing.

David remained at the same location but was now listed as a Merchandise Broker.

Theodore went into the cigar business selling Havana Cigars. You could purchase a box of fifty cigars for $ 3.50. He wife Hilda was listed as a widow in 1925.

Seligman Netter moved to 818 North Broadway and was running an auto parts supply store.

It is uncertain what Henry H. Netter did.

After the repeal of prohibition a whiskey business started advertising and selling in regional newspapers the brand Crystal Creek Whiskey for $1. 15 for a fifth. It is unclear if any family members were involved.

Why the Netter Brother went their separate ways is an untold story.

Here is the Netters timeline.

1886- 1902 Theodore Netter original founder of the Netter Bros. 1898-1920 Theodore Netter.
1907-1914 Theodore Netter Chicago office.

1890-1907 Seligman Netter Netter Bros.
1900-1919 Seligman Netter.

1886-1897 David Netter Netters Bros.
1898-1921 David Netter & Co.

1886-1993 Henry H. Netter Netter Bros.
1893-1918 Henry H Netter Co.

The Netters Bros. also had a baltimore office in 1890.

References:

www.prepro

Those Prepro Whiskey man: The Netters by Jack Sullivan.

Philadelphia City & Business Directories.

Baltimore City Directory 1890.

Frank & Frank Jr. (Wicker) Bottle Collection.

Some photos courtesy of ebay.