HANNA'S ELECTRO SILICON LINIMENT: MEDICINE

Lucius Edwards Emmons and his brother A. S. Emmons became partners as dealers in general merchandise, under the name of Emmons Brothers in 1867. Succeeding Mrs. L. Emmons & Sons firm. Their building would catch fire and became destroyed in the fall of 1876. The brothers would erect a three story brick building on the opposite corner in 1878 which carried the same name.

On April 23, 1880 the firm purchased Dr. William H. Gregg who was from Elmira, New York, the formulas for and exclusive rights to manufacture Electro- Silicon Liniment along with Dr. Shorey's Investigator Remedies. Now the brothers conducted business under the name of the Electro Silicon Liniment Co. On September 1, 1886 the Emmons brothers dissolved there partnership by mutual consent. L. E. Emmons continued the drug business in the same location.

Please note this might not be the same maker of Hanna's Electro Silicon Liniment. This is still being researched.

There is a John Hannas which also produced an Electro Silicon Liniment from New York which may have purchused the rights from L. E. Emmons.


Below is one of the bottles embossed HANNA'S / ELECTRO SILICON / LINIMENT. The bottle is aqua in color and is 6 ¼ inch tall.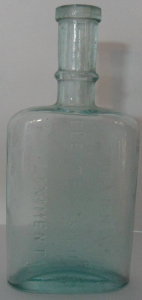 .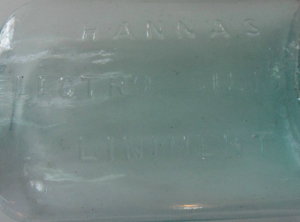 References:

History of Spencer, New York.

Frank & Frank Jr. (Wicker) Bottle Collection.