THE COVENTRY GLASSWORKS: G111-4 & G111-7 CORNUCOPIA FLASKS

The Cornucopia signifies the "Horn of Plenty". It is a goat horn filled with the fresh fruits and vegetables to denote the "fruits of your labors" and represents a job well done.

Sometime around 1813 a group of businessman from Coventy and Hartford, Connecticut formed a glassworks company. Around 1820 a glassmaker named Thomas Stebbins was running the daily operations with Rufus Chamberlian joining the company later on. By 1849 the glassworks was called Chamberlian & Turner. Also in 1849 the glassworks would close its doors due to the lack of wood to fuel it furnaces.

The glassworks primary products were flasks but also made inkwells, snuff, porters, wine and blacking bottles. Jars of all sizes and shapes along with demijohns and medical bottles. Some chestnut and sunburst flasks were also produced there.

Below are photos of the G111-4 and the G111-7 Cornucopia flasks.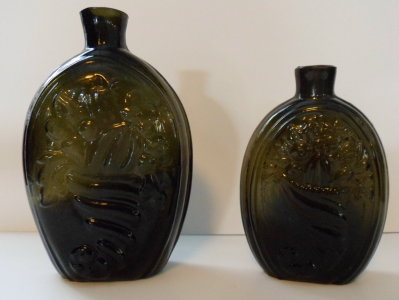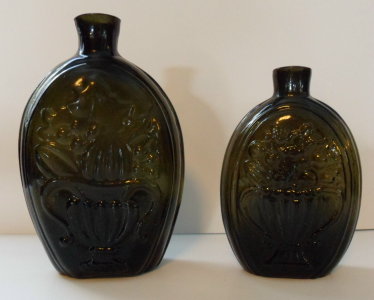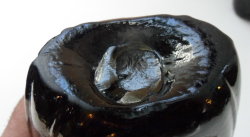 .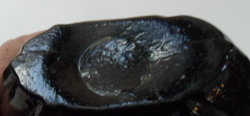 The Cornucopia flasks were made in two sizes. The G111-4 is the half pint size and the G111-7 is the pint size. All have a blowpipe pontil scar and are from a key mold with a sheared / crack off and fired polished lip treatment. The Cornucopia flasks have on one side an embossed picture of a " Horn of Plenty" with the other side an urn overflowing with fruit. These flasks stood for America being the land of the prosperity.

Please not that some (G111-7) 1/2 pints were also made at the Keene Glassworks in New hampshire.

Some Cornucopia flasks have an embossed eagle instead of the urn.

These Cornucopia flasks are a great flask for the beginner Historical Flask Collector. They are still affordable ranging from $90.00 to $140.00 dollars for common variants. These flasks come in shades of olive green, olive amber, green and aqua.

Many of the other historical flasks produced demand higher price and are sought after by advanced historical flasks collectors.

Other flasks from this glassworks were made honoring America's national heros such as George Washington, Thomas Jefferson, Benjamin Franklin and Nathan Hale. Other flasks had eagles with a banner with liberty embossed within. The glassworks also made flasks honoring the railroad.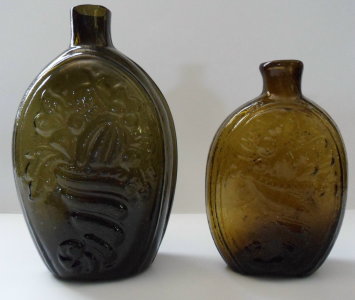 . G111-4 and a G111-7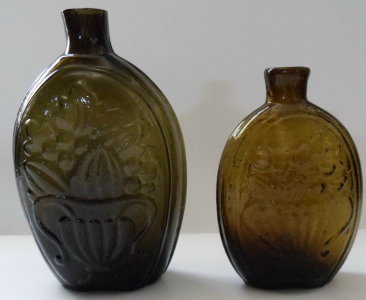 References:

Bottle, Booze and back stories. Conventy Flasks. by Jack Sullivan.

Mckearin & Wilson 1978.


Frank & Frank Jr. (Wicker) Bottle Collection.