HAVILAND & CO. DRUGGISTS: NEW YORK, CHARLESTON & AUGUSTA

William Haviland and his sons would start a wholesale drug business in New York. Other partners of the business were James Harral, H. W. Risley and T. W. Chichester. One of William's sons Daniel Haviland would go south and establish branches for his family business. The first branch he opened was in Augusta, Georgia in 1822. By 1825 he opened a second branch in Charleston, South Carolina. A third branch would open in Mobile, Alabama in 1844. As of now there are no embossed bottle from Mobile.

Below are photos of just one of their bottles. Its embossed HAVILAND & CO. / DRUGGISTS / NEW YORK / CHARLESTON / & / AUGUSTA. The color is aqua and the height is 7 1/2 inch and is an early smooth base style.



..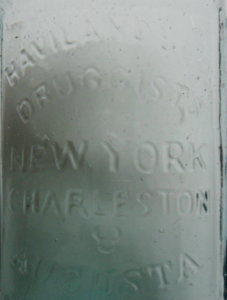 Below is information taken from letterheads from around 1850s.

"Haviland, Harral & Risley Importers and Jobbers of Drugs, New York".

"Haviland, Risley & Co. 274 Broad Street, near Globe Hotel Augusta. Wholesale dealers in drugs, medicines, paints, oils, window glass, dye stuffs, rosendale hydraulic cement and calcined plaster of paris. Also agents for the popular patent medicines of the day. J. C. Haviland, H. W. Risley, James Harral, T. W. Chichester".

"Haviland, Harral & Co. Charleston, S. C. Wholesale Druggist".

References:

Article in Bottles & Extras: Nov-Dec 2011 by Bill Baab.

Frank & Frank Jr. (Wicker) Bottle Collection.