GRAND RAPIDS BREWING COMPANY

There were six former brewers that consolidated and formed the Grand Rapids Brewing Company in 1892. They were Kusterer Brewing, Tusch Bros, George W. Brandt, Veit & Rathman, Adolph Goetz and Frey Bros.

The Grand Rapids Breing Co. was constructed in 1893 to 1895 at the corner of East Bridge, (Michigan Street) and Ionia Street. Lewis Lehie was the architect who specialized in brewery buildings. He was from Chicago, Ill. and designed building for Blatz and Schlitz breweries among many others.

Below is a drawing of the Grand Rapids Brewery which is more apealing than the original building.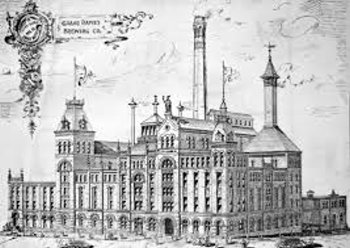 Below is just one of their beer bottles.





References:

www.historygrandrapids.org

Frank & Frank Jr. (Wicker) Bottle Collection.