WALTER S. UNGER MD.: MELBERN, OHIO

Walter S. Unger was born in Canton, Ohio on August 11, 1874. His parents were J. Wesley and Charity (Miller) Unger, who had a livestock and feed bussiness in Edgerton, Ohio.

Walter was raised in Edgerton, Ohio and attended the public school there. After high school he attended Tri State College in Angola, Indiana were he completed a commerical cousre on February 4, 1894. Then he enrolled at the Toledo Medical College before attending the Michigan College of Medicine and Surgery of Detroit. He would graduate on March 23, 1897. By June 28 1897 he would start a medical practice in near-by Melbern, Ohio.

On June 18, 1898 He would marry Isola Burger from Hicksville, Ohio. They would have two children. Paul who was born on April 18, 1899 and Doris who was born on March 4, 1902.

He would become a well known doctor in Williams County. He and his family were members of the Methodist Episcopal Church. Walter also had interests in real estate in Melbern and owned over 300 Acres of farm land in Center Township, Williams County. He would become Vice President and one of the directors of the Edgerton Telephone Company and also belonged to the Masonic Lodge in Edgerton.

Here is a little about Melbern, Ohio.

Melbern is a uncorperated community in Center Township, Williams County, Ohio. It is located on County Rd. 9 and County Rd. D. It is listed as one of the 100 smallest towns in Ohio.

Below are photos of a medicine bottle embossed W. S. Unger / Melbern, Ohio.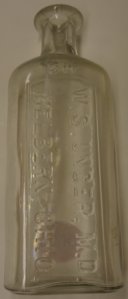 References:

History of Williams County, Ohio 1920.

Frank & Frank Jr (Wicker) Bottle Collection.