VINTAGE OLD PAPER : BEER ADVERTIZING MORE PHOTOS ADDED
Below are photos of beer advertizing that the companies used to promote their products. The first photo is of a Centlivre Brewery neck label from Ft. Wayne In. Celebrating their 80th anniversary and saying to buy U. S. Defense Saving Bonds. The label is from 1942. The company was established in 1862. The second item is a pack of matches from the Berghoff restaurant located at 17 West Adams St. Chicago. Berghoff Brewing Company had a big brewery in Ft. Wayne Ind. which was established in 1887 along with having a restaurant in Chicago. Both Centlivre and Berghoff were major competitors. Both breweries used many different kinds of bottles before selling their companies to competitors. Centlivre sold to Old Crown and Berghoff sold out to Falstaff. Between both companies you can acquire quite a collection of beer bottles.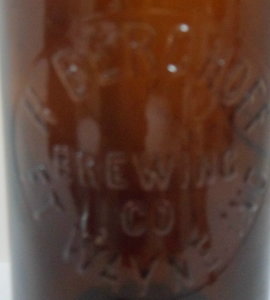 Above two photos of the slug plates from these breweries.
Above is a Berghoff wood box from Ft. Wayne, Indiana
Below is a photo of a Schlitz beer advertisement that J.P. Kelley beer distributor would distribute to his customers . He was located in Ft. Wayne, In. and would sell 24 large bottle of Schlitz Beer for $ 3.10 plus you would get .80 cents back for returning the empty bottles or 36 small bottles for $3.30 and $1.20 back for the return of the empty bottles. This add is from the 1940s and 1950s. The other item is a Wit and Humor booklet that Wiedemann's brewery would distribute when you would tour their company. This booklet is from the early 1950s.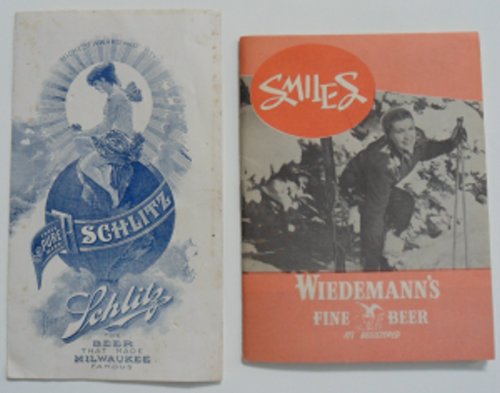 References:
Frank & Franky Jr. (Wicker) Vintage Paper Collection.